If you're a hardcore Minecraft player, you probably have heard about the art of drag-clicking. Drag clicking is surrounded by conspiracies to the point that it's banned in certain games and even some Minecraft servers.
But, if you came to this article to buy a mouse specifically for drag-clicking, you're in the right place. But, before we get into the buying guide, let's first talk about drag-clicking and how it helps you in-game.
What is Drag Clicking?
Drag clicking is a technique that gamers use to utilize their mouse's capabilities to the max by registering as many clicks as they can in one second. There's not much use for drag-clicking in most games. For instance, let's consider a game like Call of Duty: Warzone.
Warzone is pretty much anti-drag clicking since each gun in the game has a specific firing rate. Even if you exceed that firing rate by clicking faster, it will not register the individual clicks and just register the clicks that correspond with the gun's firing rate.
The main benefit that makes people fond of drag-clicking is Minecraft PvP battles. Minecraft can register each individual click, and it gives you an insane advantage against your competitors. While that doesn't sound like cheating, it is unfair. Due to this, drag-clicking is banned on every central Minecraft server worldwide.
Most of the time, the anti-cheat will ban you automatically if the servers notice your mouse registering an extraordinary CPS.
Drag clicking isn't just discouraged by Minecraft. It has its fair share of damage on your mouse as well. Every gaming mouse has a certain amount of clicks that its switch is meant to register. The number is usually in the several hundred thousand range.
But, if you start drag-clicking, you can quickly run past that number. Drag clicking will ruin your mouse over time, depending on how much you drag click and your consistency. This is where the importance of the right mouse comes in. Drag-clicking might seem simple, but it's actually very difficult to execute.
The worst part is that not every mouse can drag a click. You need a very specific type of gaming mouse to be able to drag and click effectively. If you're looking for a quality mouse that won't just be food for drag clicking but will also last through this stressful (at least of the mouse) activity, here are five gaming mice you should look to buy.
1. Razer DeathAdder Elite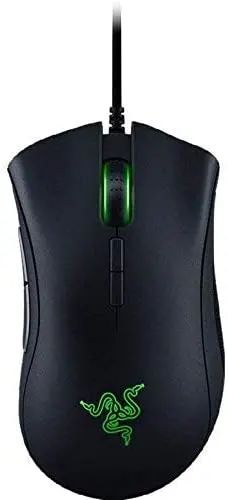 The DeathAdder Elite is regarded by many as the best mouse in the world for drag clicking, and it comes from none other than the very best gaming peripherals manufacturer in the world, Razer.
Features
The DeathAdder comes with a whopping 16,000 DPI optical sensor which an insane amount of precision to help you land the crispiest of flicks in-game. The best part of the high DPI is the quick switch buttons that allow you to seamlessly switch between the available DPI options without much of an issue.
This is particularly helpful when you're used to different game sensitivity settings. You won't have to mess with different settings in-game. A flick of a switch, and you're good to go.
The mouse, being a product of the Razer ecosystem, has full compatibility with Razer Chroma. Chroma is the company's proprietary RGB lighting software that allows you to customize the RGB lighting on the DeathAdder with 16.8 million colors.
Razer loves compatible software, which is why they have another Razer Synapse program. Synapse has a bit of more practical use and allows the user to reprogram the seven buttons on the DeathAdder.
The top reason why we love DeathAdder as a mouse for drag-clicking would be the switches. The mechanical switches Razer used to make this mouse can support up to 50 million clicks. If you somehow managed to work through the 50 million clicks, it's not a problem. Razer provides a 2-year warranty on the mouse, which covers the mechanical switches.
The only drawback of this mouse is the lack of onboard memory. Every modern gaming mouse has an onboard memory that allows users to store their DPI and RGB profiles on the mouse itself. This is particularly helpful for esports players who usually play on multiple PCs, which are usually not their own. The Razer Synapse stores the profile settings, and when you switch your computer, all settings are lost.
2. Roccat Kone AIMO
Roccat Kone is a highly underrated brand that is often forgotten about amid all the Logitechs and Razers of the world. Their AIMO gaming mouse might not be so high on the list of 'best mice of all time,' but on this list, it definitely deserves to be on the top.
Features
The central selling point of the Roccat Kone would be its flawless custom sensor called Owl-Eye. The company's proprietary sensor is capable of reaching 16,000 DPI and gives you the option to adjust the sensitivity down to a single DPI.
It wouldn't be a good gaming mouse without the great RGB, right? Well, it might not be as good as the Razer and its RGB profiles, but it still is a great contender if you want to light up your setup. It has five individual lighting zones that can be configured, allowing you to customize the mouse to match the aesthetic of the rest of the setup.
The AIMO uses Roccat's 'Kone' shaped (hence the name) design which has been proven to be one of the most excellent mouse shapes on the planet. It has a specific feel that will take some time to get used to. But, once you do, you won't be able to shift to anything else.
Most mice have a rubber build to provide a robust and friction-based grip. That's how mice are supposed to be made, but they quickly pick up dust. To ensure that doesn't happen with the AIMO, Roccat coated this with a layer of dust-resistant hybrid material to provide a clean and sleek build.
The AIMO is an absolute beast when it comes to customization. There are 23 reprogrammable functions to fully customize the mouse to the brink. It doesn't have 24 keys. But, because of the Easy-Shift button allows you to bind an extra secondary function to push it up to 24 functions.
Also, the mouse makes up for the Razer mouse above issue. It does have onboard memory, which makes it much easier to use the 24 function keys and saves you from the hassle of having to re-bind them every time you switch a PC.
3. Logitech G502 HERO
The Logitech G502 is one of the best mice that Logitech has ever made, period. It's one of the best-selling mice of all time, and the spec sheet has shown exactly why. Let's talk about what makes this mouse special.
Features
The first thing that excited us about the G502 is the HERO sensor. HERO is Logitech's proprietary gaming sensor that took them three years to perfect. The critical factor of this sensor is its pinpoint precision that focuses on your swipes at a sub-micron level. The manufacturers also increased their maximum DPI to 25,600, which is the most out of all the other mice on this list.
This mouse gives you 11 customizable buttons that you can set individual profiles for using the Logitech desktop applications. The best part is that you're not entirely reliant on the software to maintain those player profiles. The mouse can store up to five profiles on the onboard memory.
Are you having trouble adjusting to the weights of most mainstream mice? The G502 takes away that problem by adding adjustable weights inside the mouse. The removable 3.6 grams of weights can be used to customize the mouse to the weight that just feels good.
Logitech is also on the RGB hype train with its Lightsync technology. Not only can you change the colors on this mouse from a palette of 16.8 million possible options, but you can also sync the mouse up with your other Logitech gear. All your Logitech peripherals will be ideally in sync giving you an unbelievable aesthetic for your setup.
We love this mouse for drag-clicking because of its unique mechanical switch button. The peripheral comes with a metal spring tensioning system and pivot hinges put into both mouse switches. This gives you a rapid response time for each of the individual drag clicks registering even the highest of CPS flawlessly.
4. Redragon M711 Cobra
Redragon is the number one selling peripheral company that falls under the affordable category. Their price-to-performance ratio is absolutely insane, with premium quality mice coming in with price tags 1/4th of most premium mice.
Features
The M711 Cobra has the highest DPI of any mice in a similar price tier. It has a DPI switch that can take up to 10,000 DPI. The mouse allows pre-built profiles of 500, 1000, 2000, 3000, 5000, and 10,000 DPI. Apart from that, you can set a DPI with an increment of 100 per your requirements. Redragon ensures that no matter which DPI you've gotten used to, the M711 Cobra can meet your demands.
The RGB isn't customizable, though. But what can you expect from such an affordable mouse? Even though you can't change the RGB you like, the mouse has 16.8 million colors arranged in a breathing style. You might not be able to customize the RGB, but there are options to customize the buttons however you like. The seven buttons can be assigned the way you want for top-notch gaming and productivity experience.
Another great feature of the Cobra is its minimalist but sleek design. It doesn't look special, but every curve is specifically designed to provide a solid grip and seamless experience during use. The Cobra will feel like it was made just for your hands.
The mouse itself is lightweight, but the cord on the mouse is not. We get what Redragon was trying to do. They braided the cable to make it more durable, which was a good move to extend the mouse's lifetime. But, it doesn't work out when it makes the mouse heavier and makes it difficult to be moved. That's a considerable inconvenience and leaves a lot to be desired from this mouse that messes up one thing while trying to fix another.
5. Glorious Model O Gaming Mouse
It will confuse you if you've never seen a Glorious mouse. This mouse is sort of semi-transparent. You can actually see all the chips and stuff inside, which is the recognizable quality of this mouse.
Features
The central selling point of the mouse is its lightweight design. The Glorious Model O sits comfortably at just 67 grams. That might not seem that light, but the real difference is when you talk about the mouse as a whole. The Redragon mouse we talked about earlier had a heavy cable that tugged on your mouse, making it a hassle to use. However, the Model O has a flexible and highly lightweight cable that makes it feel like there is no cable.
The mouse feet aren't a huge concern for people when buying a mouse for drag-clicking, but it's still an excellent feature. The Glorious Model O has 100% pure virgin PTFE feet installed, making it glide on the mousepad like ice skates on a New York lake in December.
The mouse is a massive contender for e-sports events because of its various DPI fits of rage and customizable buttons. There's a total of 6 DPI ranges that you can quickly go through with the DPI button. There's a DPI indicator, which also tells you what DPI you're on right now to make switching that much easier. The mouse also has six customizable buttons with macro support that you can bind to actions in games that support it.
The mouse is flawless in every way except one, the connectivity. The mouse isn't wireless, so it shouldn't have issues with connectivity, right? Well, apparently not. Somehow, the mouse has connectivity issues, even with a wired connection. It blacks out for a couple of seconds and then reconnects automatically. This isn't that frequent, but it's still a pain when it does happen.
Closing Thoughts
Finding the right mouse for something as taboo as drag-clicking can be difficult. Mice manufacturers tend to opt-out of this feature since it hurts the life of the switches, but regardless, these are some of the best mice on the market if you're into this kind of thing. So, if you need a mouse for drag-clicking, just grab one of the ones listed in this article, and you're good to go.