Who isn't a big fan of roleplay when it comes to classics like Fallout: New Vegas? With the game now almost 12 years old, there's been a lot of evolution on how it has been played over the years. However, some builds and playstyles have definitely stood ahead of the competition in terms of their ingenuity or overall effectiveness.
In essence, the best builds in Fallout: New Vegas are both fun-to-play but also fare well in the late game. They combine unique backstories and let players devise the rest as they roam around the desert. In our opinion, the Warrior build which we've mentioned down below is the perfect combination of DPS and tankiness leading it to be the best build in the game.
With that said, we've compiled a list of the absolute best builds in Fallout: New Vegas alongside specific guidelines on how you should go about playing them.
As always, this list too is a culmination of personal preference and experience. You might end up enjoying one build over the other be it because of its backstory / roleplaying element or its DPS. In any case, the best build for you is one that you appreciate the most!
The Great Khan Warrior
Born to a nomadic tribe, the Warrior aimed to rise to the top after his brethren were driven to obscurity. His ambition makes him a killing machine while his past only increases his resilience. With a keen focus on decimating his opponents with automatic machine guns that throw out bucketloads of criticals, the Warrior remains a force to be reckoned with even in unarmed combat.
With his people now forsaken to a faraway land, the Warrior has vowed to capture the wide grasps of the desert in his reign and bring back the fallen glory of his tribe.
Stats
| | |
| --- | --- |
| Strength | 8 |
| Perception | 6 |
| Endurance | 10 |
| Charisma | 1 |
| Intelligence | 4 |
| Agility | 1 |
| Luck | 10 |
As a former tribal who has lived alone most of his life, his strength and endurance are a given. The warrior can take quite a beating and his strength allows him to wield the heaviest and strongest automatic weapons New Vegas has to offer and carry heavy loads as well.
Tolerating the gruesome life of the desert is not only a testament to his strength and endurance but also demands a pinch of luck which the Warrior certainly has. With your choice of perks and gear, you'll be able to keep your crits rolling with your desire to be an expert marksman leading to your six points in perception.
With this, you'll be able to take the better critical perk at the expense of your agility. You may end up running and reloading slower, but your strength and endurance ensure that you are able to outlive even the most agile of opponents.
Related: These Are the Best Ways to Get Ammo in Fallout 4
Skills
| | |
| --- | --- |
| Major Skills | Unarmed, Guns, Survival |
| Minor Skills | Melee Weapons, Repair |
The Khan's proficiency with guns is the primary focus of this build. He does not rely on charm, keen intellect, or stealth to gain the upper hand of his opponents. Instead, the Warrior aims to pepper most obstacles down with bullets.
His other talent, survival, helps him stay stocked up and craft items whenever needed allowing him to be ready for anything. While the melee weapons skill is not extremely important, it does allow the Warrior to get some useful perks like Superslam and Unstoppable Force.
Finally, the Warrior will be adept at maintaining his weapons. Dropping some points into repair is a must as that helps keep the character afloat in the midst of turbulent times.
Playstyle
The Warrior stands true to his name. Honing an automatic machine gun and using his melee attacks, he rampages through the Mojave unleashing his crits wherever he goes. Coming from a Nomadic background, the Warrior does not have the Charisma necessary for companions. Therefore, he prefers to venture alone.
Traits
For Traits, the Warrior will have Built to Destroy and Hot Blooded. With both these traits, you'll have an increased Crit Chance and a higher amount of DPS. However, you still do get some leeway when it comes to choosing your traits if you have something else in mind.
Perks
For this build, we recommend the following perks:
Finesse
Fight The Power
Super Slam!
Better Criticals
Piercing Strike
Unstoppable Force
Heavyweight
Bloody Mess
Tribal Wisdom
Hunter
The Warrior counts on criticals and fires a lot of rounds with some of them hitting the sweet spot. To supplement this, the Finesse perk adds a 5% crit chance, Better Criticals adds 50% extra crit damage and the Hunter perk will add +75% critical damage against mutated animals.
As you can notice, the Warrior is an absolute machine for landing criticals left-right, and center. For close-ranged combat, we're taking advantage of the Super Slam perk. It leads to all unarmed and melee attacks having a 15% chance to knock down enemies.
When the Warrior goes toe-to-toe with more defensive opponents, the Unstoppable Force perk shows its merit. It multiplies all melee and unarmed damage by x4 and increases the damage threshold of melee and weapon attacks.
To top all this combat enhancement off, the Bloody Mess perk is a true reflection of the Warrior's aim. It helps increase your overall damage contributing to your ferocity.
For survival, the Heavyweight perk is a must as it reduces the weight of heavier weapons to half affecting the choice of your primary and second weapons drastically. With Tribal Wisdom, you'll end up taking less damage from animals which synergizes with the Fight The Power perk which deals extra damage to enemies who wear faction armor. After all, the Warrior truly is the only one that deserves power in New Vegas.
Clothing
Most of the Warrior's apparel can be found in the Honest Hearts and Lonesome Road DLCs. Until you get to those areas though, metal armor followed by reinforced metal armor will suit the Warrior the most. Your final apparel should be:
| | |
| --- | --- |
| Name | Perk |
| Salt-Upon-Wounds' Helmet | +4 Damage Threshold +2 Critical Chance +5 Sneak |
| Armor of the 87th Tribe | +22 Damage Threshold +10 Action Points +3 Critical Chance +1 Charisma |
Weapons
Any unarmed weapons and machine guns will suffice in the early game. However, to maximize the Warrior's output, we suggest the following weapons in the final build:
Automatic Rifle
Light Machine Gun
Salt-Upon-Wounds' Power Fist
Fist of Roar
The Suicide Squad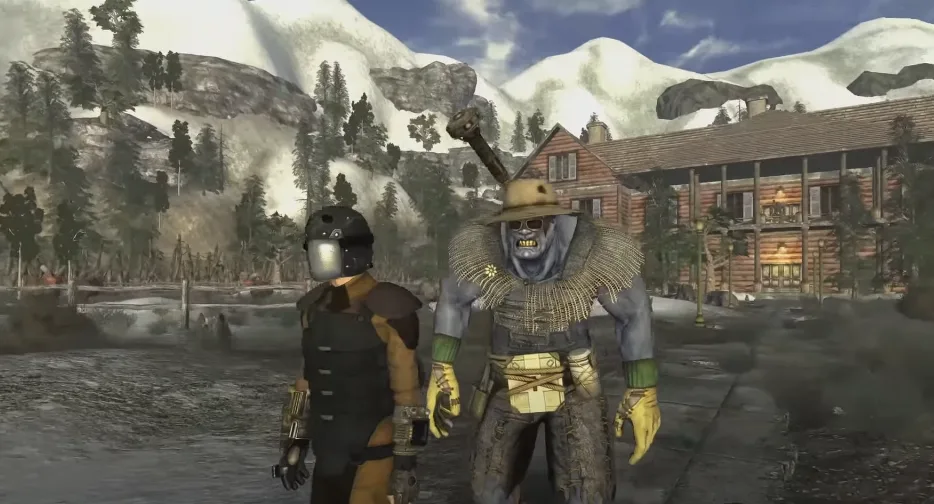 Now, hear us out, Fallout for the longest time has always been a game where every stat point is thought about meticulously, every weapon analyzed for its efficiency, and so on. While that's good and dandy, doesn't feel good to let go sometimes?
That's where the Suicide Squad Build comes in. Taking some inspiration from the movie of the same name, this ragtag group of whacky characters bands together to form an off-meta but extremely effective team. If you are a fan of explosives or unarmed combat, following this build will be an absolute treat as we combine the best of both worlds and use unarmed weapons that also explode to their maximum extent!
Stats
| | |
| --- | --- |
| Strength | 10 |
| Perception | 5 |
| Endurance | 10 |
| Charisma | 5 |
| Intelligence | 1 |
| Agility | 5 |
| Luck | 4 |
With this build, you'll have high health and endurance which is an absolute must and adequately fits your character's storyline. As you can see, there's a profound lack of intelligence that you'll be suffering from which will sadly lead to you not being able to learn a lot of your skills as you move your way through the Mojave desert.
Just like all the Warrior build we've mentioned above, these stats serve as a simple metric for you to level your stats with. These aren't accurate representations of the End-Game as that depends on what choices you make in the DLCs alongside the implants you end up getting.
Skills
| | |
| --- | --- |
| Major Skills | Melee Weapons, Unarmed, Explosives |
| Minor Skills | Repair, Medicine |
Melee Weapons and Unarmed are the core focus of this build. Plus, Melee classes are extremely fun to play and go hand-in-hand with your other major skill, Explosives. If you've never played an Explosive melee character before, this build acts as the perfect primer!
We're going to be picking up two minor skills as it does take us time to learn more and improve on existing ones due to low intelligence. Repair will help you keep your gear in good condition while Medicine will help you stay alive through the use of more powerful Stimpaks. You are going to be needing a lot of Stimpaks as you try and learn how to throw Explosives appropriately.
Playstyle
Your playstyle is quite simple and effective. You'll be showering your opponents with throwable explosives. Once you are done with your explosives or are simply coming into close range with them, switch to your Unarmed or Melee weapons depending on the situation. You might end up hitting your companions with a few explosives along the way. However, they are quite durable so it won't hurt them much.
Traits
The Traits we've picked up for this build are Heavy Handed and Wild Wasteland. These perks help you deal extra melee and unarmed damage. But, you'll end up dealing less critical damage. You'll also be encountering some silly NPCs with the help of the Wild Wasteland trait.
Perks
Here are the perks we recommend for this particular build:
Heave Ho!
Demolition Expert (All Ranks)
Bloody Mess
Stonewall
Hit the Deck
Adamantium Skeleton
Unstoppable Force
Piercing Strike
Splash Damage
Mad Bomber
Super Slam
The Heave Ho! Perk increases your throwing velocity and range by 50% which also affects explosive weapons that fire their projectiles in an arc. Demolition Expert has you do 60% more damage with all explosive weapons at the last rank.
Bloody Mess increases your overall damage by 5% and also leads to more violent deaths. Don't get us wrong, this one's purely for fun. With Splash Damage, your explosives will be more effective in an AoE. Combining all these, you'll often find explosives to cause you some damage as well.
With that said, that's why we've incorporated Hit the Deck which increases your damage threshold against explosives by 25%. Adamantium Skeleton aims to improve this too by reducing the amount of damage you take. Another great defensive perk, Stonewall renders you un-knockable in melee combat.
If you want more access to convenient explosives, you can craft them using the Mad Bomber perk. We recommend that you get this later into the game as there are tons of dynamite at the start of the game to leave you satisfied.
For melee perks, Unstoppable Force and Piercing Strikes increase your damage output while also having you ignore some defensive attributes when punching someone down as well. Finally, the Super Slam perk gives you the chance to knock down your opponents with melee and unarmed strikes.
Weapons
For gear, you should try and get as many explosives as you can. Dynamite will be a staple right out of the gate as Powder Gangers have heaps of it. If you get the Mercenary Pack, you start with a Grenade Rifle which you have our permission to use.
Use whatever explosives that you like but try to keep them confined to throwables. Stay away from heavy explosive weapons like the Fat Man. The MFC Grenades that you craft will be great later on. In essence, grenades of all kinds ranging from frag to plasma will be vital as you move onto later stages of the game.
Melee
For Standard and Unarmed weapons, here's what we recommend:
The Chainsaw
Two-Step Goodbye
Both of these weapons can be purchased from The Gunrunners. The Two-Step Goodbye is an extremely powerful fist that latches an enemy with an explosive if they end up landing a critical hit. However, do be careful of the explosive effect as it can be particularly deadly.
You should also try and work your way towards the unique variant of the super sledge titled Oh, Baby. Once you do, give this particular weapon to Lily as she uses it. She'll be one of your companions during your quests, we'll be talking about her down below too.
As a mid-game melee weapon, you can use Knock-Knock or the Fire Axe. Both of these work quite well in those stages of the game when you can't get your hands on your end-game weapons.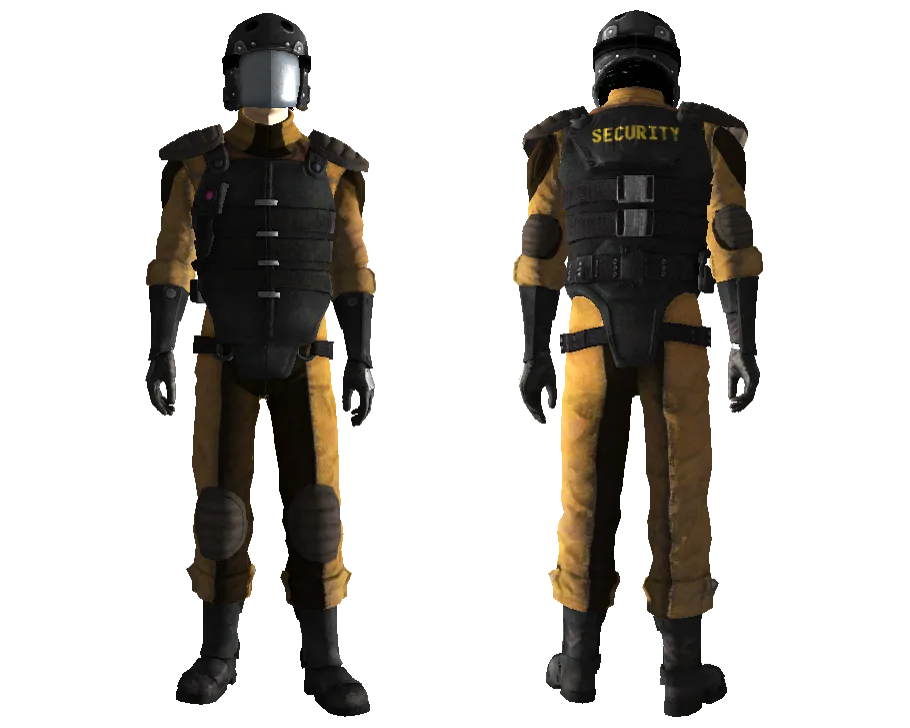 Clothing
For armor, we're going for the complete Sierra Madre Reinforced set. It fits the aesthetic of your character while also providing you with some decent buffs. Before you get this armor though, feel free to wear whatever you like. However, we recommend picking up gear that provides you with an increased Damage Threshold as you'll be needing to sustain a lot of damage.
| | |
| --- | --- |
| Name | Perk |
| Sierra Madre Armor, Reinforced | +18 Damage Threshold (Highest in the game) |
| Sierra Madre Helmet, Reinforced | |
Companions
With companions, you can make a squad of whoever you like. But, we prefer Lily and Rex. What's more whacky than a Nightkin Grandma and a dog with another dog's brain? We recommend using either Violetta's brain or Rey's brain for movement speed or attack power.
Address whatever you find lacking in your squad to your wish. However, we doubt that you'll find much. Treat your squad well, use them appropriately and enjoy the absolute havoc you three will create!
The Courser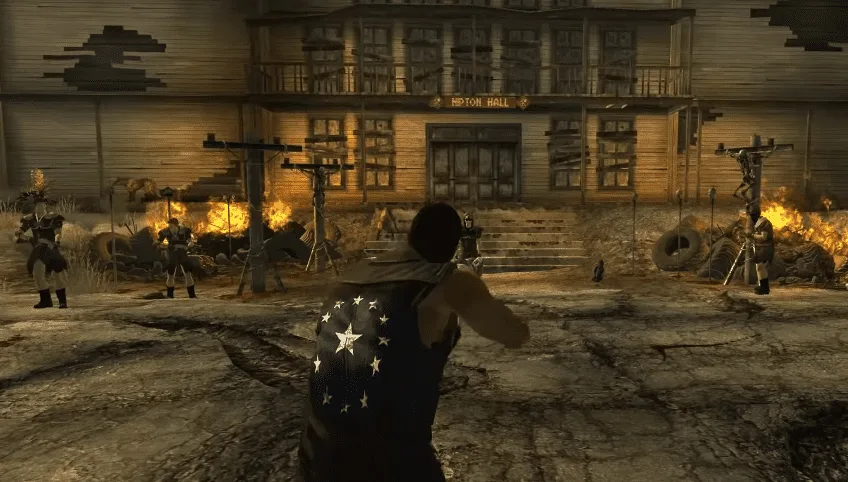 The Courser is an extremely fun build for anyone who's played Fallout 4 or is a fan of the Fallout lore in general. This build will be a blizzard of laser fury sweeping across the lands of Mojave in a timeless fashion. With a knack for criticals, the build scales well into the late game and remains viable at every stage.
Built by the Institute as a Generation 3 Synth, the Courser was not meant to replace anyone but was instead made to instill fear into the hearts of his enemies. His one aim in life was to track down and capture his own kind. Put through intense mental and physical conditioning, the Courser was the best of the best.
With that said though, the Courser fell through a humane patch in his life meeting a scientist that paved his way towards being more sentimental and emotional. Ultimately, when the scientist died of old age, the Courser was aimless, and thus he began his aimless wandering in the Mojave.
Stats
| | |
| --- | --- |
| Strength | 4 |
| Perception | 6 |
| Endurance | 5 |
| Charisma | 1 |
| Intelligence | 10 |
| Agility | 8 |
| Luck | 6 |
4 Strength is enough for us to weild our weapons while 5 Endurance helps us survive in the wild. 6 Perception is what yo'd expect from a Courser and gives us better accuracy as well as access to the Better Criticals perk. 10 Intelligence represents the high intellect of the Courser especially considering the fact that he's a Synth. This will help us level up fast and boost our skills a lot.
His physical training is represented in his high Agility which helps us get a good amount of perks and V.A.T.S capabilities. His lack of communication is reflected in his low Charisma while 6 Luck will provide for great critical hits especially when you take a look at the perks we've picked out for him.
Playstyle
The Courser has always been a lone ranger, not keen on assimilating with anyone else, he has no companions and uses Stealth to his advantage whenever he can. He isn't extremely social or charismatic and prefers to use energy-based laser weapons to deal damage.
Skills
| | |
| --- | --- |
| Major Skills | Energy Weapons, Science, Repair |
| Minor Skills | Medicine, Lockpicking, Sneak |
We have loads of Intelligence so we will max out all our skills easily. After that, you can start leveling up skills other than these as you please. Energy Weapons will obviously increase our weapon damage and Science will be used for hacking and our gear choices.
We have Repair to keep our equipment in top shape and to also completely misceleanous repair objectives. Lockpick gets us access to places where we can loot and Sneak helps ensure we don't get caught in the process. Medicine will also keep us alive and can be used to assist others in certain quests.
Traits
When it comes to Traits, the Courser will be choosing Skilled and Good Natured. Skilled represents his versatility and how he's been trained be adept at many different ambits. You'll be gaining +5 to all your skills at the cost of gaining 10% less XP. This is easily countered by our extremely high Intelligence.
Good Natured provides us with -5 to combat skills and +5 to passive skills. Originally, the Courser was a ruthless person who only knew agression. However, over time, he developed a softer skill set and the Good Natured trait is a perfect representation of that change.
Perks
Educated
Living Anatomy
Finesse
Robotics Expert
Better Criticals
Nerves of Steel
Laser Commander
Meltdown
Light Touch
Tunnel Runner
Educated helps this build level up faster by giving the Courser two more points to allocate during each level up. Living Anatomy is more of a role-playing perk and has you see the HP and DT of all enemies when in V.A.T.S. and also deal 5% extra damage to non-feral Ghouls and humans.
This build also dishes out a ton of critical damage. So, we have the Finesse perk for 5% better critical chance and the Better Criticals perk to make this devestating crits even deadlier with 50% more damage.
Laser Commander helps increase our damage by increasing our laser weapon crit rate and damage. Light Touch also benefits the critical hit playstyle by increasing your crit chance even further and by also giving enemies -25% crit chance against you when you wear light armor.
The Robotics Expert has been picked up for role-playing purposes mainly as it has you deal 25% more damage to robts and lets you shut them down if you sneak up on them. We're also going to have our AP regenerate 25% faster with the Nerves of Steel perk giving us plenty of V.A.T.S. mayheym.
As we shoot down our foes, they'll be unleashing a harmful corona of energy which can damage enemies around them and also harm you if you aren't careful due to the Meltdown perk. Lastly, we have Tunnel Runner. This increases your movement speed by 25% while sneaking in light or no armor.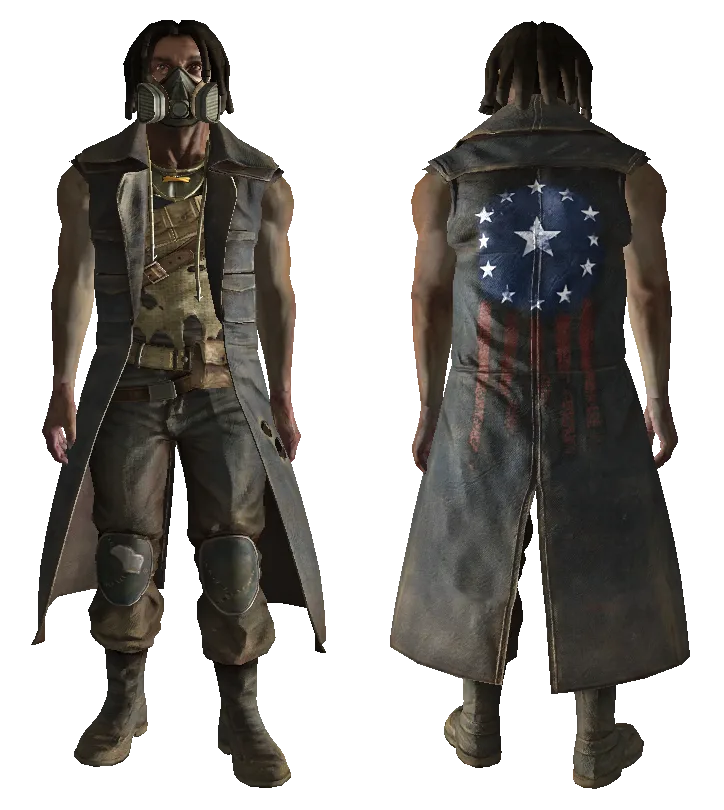 Gear
We'll be trying to emulate the Courser from Fallout 4 as much as possible in New Vegas. Early on, you can use any set of gear that you'd like. In essence, the aesthetic requires a long coat. So, you can wear anything that matches that profile.
Eventually though, you'd want nothing less than the Uluysses' Duster from the Lonesome Road DLC. This not only makes you look the part but increases your Critical Hit chance.
| | |
| --- | --- |
| Name | Perk |
| Ulysses' Duster | Critical Chance +5% Charisma +1 |
If you aren't able to get the Duster just yet, you can also settle for the Merc Veteran Outfit in the early game. However, we strongly suggest switching to the Duster as qucikly as possible.
Weaponary
With weaponary, you'll be using the AER14 Prototype in the mid-game which is a unique laser rifle that shoots green. You'll be able to find it in Vault 22. For the end-game, you'll want Elijah's Advanced LAER. It is not only powerful, but shoots in blue!
It really adds to the Institute vibes of the Courser. The rifle itself can be found in the Old World Blues DLC.
Does Your Build Matter In Fallout: New Vegas?
Yes, your build plays a huge part in Fallout: New Vegas. It directly impacts how you play the game as you'll be choosing your skills, perks, traits, and weaponry accordingly. So, if you are a new player, we suggest picking up a build like the Warrior as it is easier to play. But, if you are looking for some roleplaying fun, a build like the Suicide Squad definitely works out.
---
That concludes our build for one of the three best builds in Fallout: New Vegas! Of course, the sky's the limit when it comes to concocting your own story and rolling with it. These builds have been inspired by the YouTube channel FudgeMuppet, props to them!