If you're the type of person that loves polearms in Mount and Blade games, then you might be wondering how to couch lance in Mount and Blade II Bannerlord. To be fair, this mechanic has existed in previous Mount and Blade games where players are capable of lowering their polearm while mounted to a steed.
You can couch with a Lance in Mount and Blade II Bannerlord by equipping a Polearm with the Couch Lance Tag. Mount a horse and build some speed till you see a prompt in the bottom right corner featuring a vertical and a horizontal spear. Press X when you build enough speed and now, you've Couch Lanced successfully.
If you're looking to output a high amount of damage within the first hit while also carrying a strong lance, this guide might do the trick for you.
The Best Way To Make Money in Mount and Blade II Bannerlord?
Getting the Right Weapon
First and foremost, you'll need to get the right weapon for the job. It can be pretty confusing how to get started. You'll need to, first of all, get the right weapon and then add a certain tag that will enable you to cough it.
Look for the Couch Lance Tag
Start by looking at some polearm weapons. You can either buy them or craft them if you've got a blacksmith at your party. The best move is to find a big town that offers you a plethora of items to purchase.
Once you've reached the Trade window, filter the weapons tab which is found at the top of the screen. You'll need to search for polearms with the keyword Lance in the name. Once you've found a selection of Lances, the next step is to look for a special tag. Hover over the weapons and you'll see their damage, length, gold value, tier, and weapon class.
Check out the Orange Tag on the Lances that show whether it's One-Handed, Spear Brace, or Two-Handed. Find a weapon with the Couch Lance tag.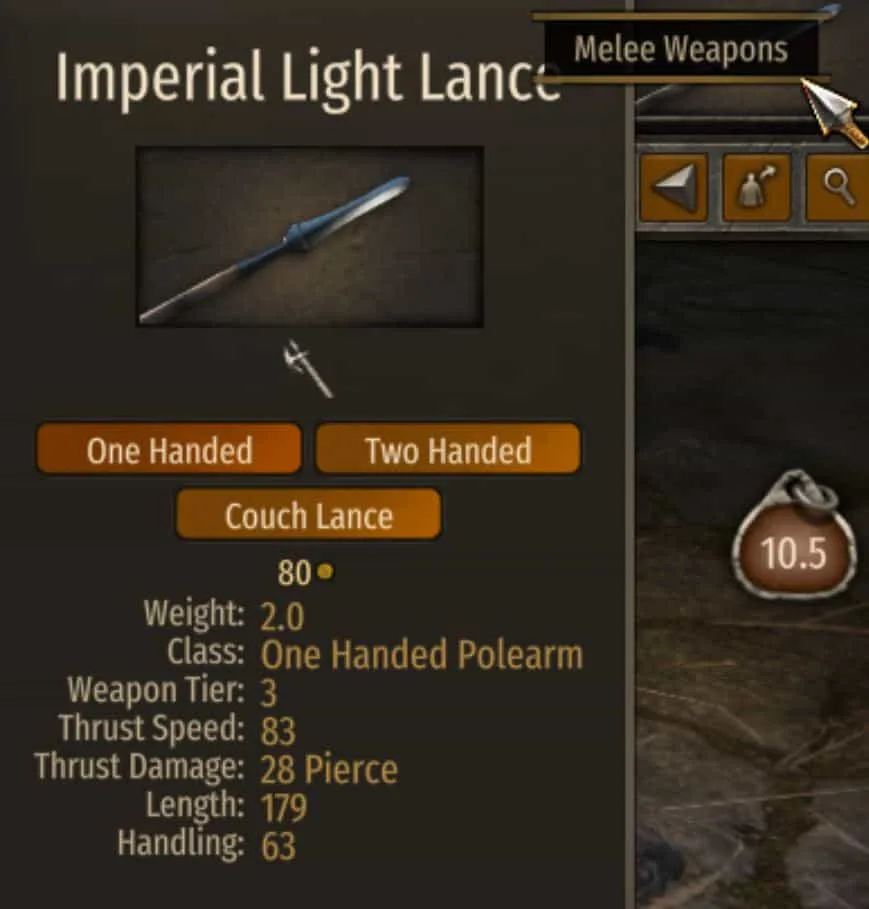 Configure Keybinds
Configure your settings to enable the Couch Lance option in Mount and Blade II Bannerlord. By default, the X key on PC enables you to couch lance but you can change it up under the keybind settings. This setting is found under keybinds as Switch Weapon Usage.
Mount a Horse
You cant couch lance on foot, can you? Your next step would be to mount a horse. Build some speed with the horse and you'll get a small icon prompt at the bottom right corner of the screen. It's pretty easy to miss since it meshes with the background.
The icon features a spear facing upward, horizontally, and a small horse head. Press X at the right moment and voila, you can now Couch Lance.
You can make the most of Couch Lancing by switching to first-person mode. This will help you see a whole lot better. One last tip we got in store for you. You can still hold up a Banner while Couch Lancing.
Conclusion
---
And that pretty much sums it up on how to Couch with a Lance in Mount and Blade II: Bannerlord. Couch Lancing is pretty OP and can singlehandedly one-shot enemies so don't skimp out on Polearms. Check out more to-the-point and useful gaming guides on GameVoyagers and if you don't, you'll surely miss out!