If you're looking to thrive in your Rust server then chances are you've probably heard of Bunker Bases. Bunker bases are exceptionally good at safeguarding your materials, weapons and tools. So it is no surprise that people test out different Bunker Base builds, in order to come up with the most efficient, and powerful Bunker bases that resources can buy. To upgrade your game, if you're looking for the Best Bunker bases in 2022 then you've come to the right place.
The best Bunker Bases are made by keeping in mind a few important things; efficiency, time consumed to make the bunker, resistance to raids and materials required as a whole. With that said these are our top picks for the Best Bunker Base Designs in Rust for 2022:
Stability Bunkers
Double Stair Bunkers
Roof Bunker V1
Roof Bunker V2
Offset Bunker
Which Bunker best suits you ultimately is decided by your play-style. Are you someone who likes to gain short-term victories or are you a meticulous planner hoping to keep your materials to your chest until the later stages of the wipe. Regardless of how you like to engage with Rust, we've got something for everyone.
Related: Ultimate Guide to PvP in Rust
What is a Bunker Base in Rust?
The essential feature of any Bunker Base in Rust is that it is able to store materials, loot and weapons for you in a safe location. There are many key features that are essential for this type of Base in comparison to the regular type that most players eventually build through their various wipes and playthroughs.
Some of the key features that decided make a Bunker Base are the following:
Narrow pathway which makes it difficult to raid
Extremely durable or impenetrable walls.
Lack of external doors
Collapsible floors or walls for access by the player themself
Supporting material that make penetrating the Base more difficult
Sealed by creator from inside of the bunker.
Now that we understand some of they characteristics of Bunker bases in themselves. Lets move on to a thorough examination of our top picks for the Best Bunker Bases of 2022.
Stability Bunkers
Simple but functional. Stability Bunkers are the go to for new players and solo-players alike. Their best feature is their compact design and easy access. For most players, they are incredibly resource efficient and only require a few high quality material.
The basic build of a Stability bunker is that of armored floor which is supported by a wall made of twigs. This is coupled with reinforced walls that surround the structure itself, providing ample room to players to store materials, weapons and other tools.
How to build the Stability Bunker?
Double Stair Bunker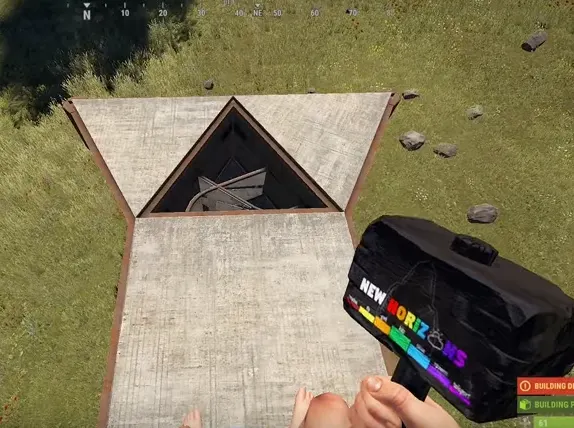 If you're looking for a stylish alternative to the more simplistic Stability Bunker then the Double Stair Bunker is excellent for you. The best thing about this Base is that it requires very little amount of investment in terms of resources, barely needing much stone and wood in order to complete its entire construction. Secondly, it is excellent because it does not show overt signs of bunkering. Thus making it far less likely to be raided in comparison to other base designs.
The Double Stair Bunker has a Second Floor entrance which is how it remains inconspicuous to most raiders. It has a simple mode of construction, requiring one large square stone and three triangle stone floors. These are then surrounded by walls which are ideally reinforced. There is a small triangular hole left open in the ceiling which is what is primarily utilized in order to access the bunker itself.
The best aspect about this type of bunker is the ability to trap it in the event of a raid. The Double Stair Bunker is great for anyone looking to maximize their style and efficiency.
How to build the Double Stair Bunker Base?
Roof Bunker V1
The third entry on our list is the Roof Bunker V1 which is also regarded as a conditional Bunker. The biggest issue with this type of Bunker Base is that it displays very obvious signs of Bunkering. However, the advantage of this particular build is that it is incredibly cheap, much more so than other builds.
Additionally, it provides some amazing open space within the bunker for storing various materials and can be relatively easily closed by using either a half frame or wall. The only downside is that it can only be done from the inside. Add piece of half frame or wall to seal the entire bunker, but can only be done from the inside.
How to build the Roof Bunker V1?
This Bunker Base build can easily be constructed using one lower foundation and three raised foundations. Moreover, add two raised triangle foundations to complete the space. Cover the entire area with walls and a roof piece. And then make sure to upgrade. In order for the Bunker to work you must add a roof piece and a side roof piece close to the door. These two roof pieces need to be of the same material for you to be able to seal the structure.
You might be interested in: Nine Best Ways to Get High-Quality Metal in Rust
Roof Bunker V2
The Roof Bunker V2 is very similar to the V1, but there are some key differences that separate the two and might be the reason why you might wanna try one over the other. The first is the signs of bunkering that is far more visible in V1 than in V2. Although V2 does contain various signs of bunkering, especially to its sides they are far more easily covered with building parts that it is far less conspicuous than V1.
Additionally, although V1 and V2 share the same open space, the V2 bunker is far more costly especially in terms of High Quality materials when it comes to opening and closing their spaces. Moreover, unlike the V1, V2 can be rigged with a trap in the open space, thus allowing for some additional pieces of protection.
Furthermore, the method of sealing the bunkers differs greatly. With the Bunker in V2 being sealed using a twig piece and a upgraded roof piece that upon dismantling or breaking cost a lot of materials to reconstruct. Hence the additional cost in comparison.
Offset Bunker
One of the biggest advantages of utilizing the Offset Bunker is that it is high cost effective to construct. IT requires perhaps the least amount of materials in order to finish, but provides excellent protection regardless. The Bunker's main method of protection is using an additional Roof piece to block out access to the triangular entry path.
By adding the roof to the side of the bunker you can easily obtain access into the bunker. This, however, requires some finessing or correct material placement in order to execute correctly and accurately. Although this is also the reason why the upkeep for the Bunker is really high. Although the original construction price is cheap in order to upkeep one must regularly utilize High quality materials to close and open the entrance.
How to build the Offset Bunker?
---
These were our picks for the Best Bunker Base Builds in Rust for 2022. There have been many patches and lots of exploits have been lost, but the Rust community continues to innovate and showcase the building prowess. We'll keep you up to date on all the latest builds, tips and tricks. Till next time! Ciao.