In the gorgeous world of Tiny Tina's Wonderlands you never know what you will find. However, if you're someone who is looking to finish their build and needs that one specific weapon or equipment piece, knowing where to find it will make the search a whole lot easier.
Moreover, if you're the kind of person that likes to complete games 100% then this guide might just help you scratch that exact itch of catching-them-all. Through this guide we're going to help you find the right weapon for battle by revealing all Legendary weapons and where to find them.
Although, if you're just starting the game out then perhaps our tier list on all classes in Tiny Tina's Wonderlands will be helpful to you. For information regarding our rankings of the 5 best weapons in the game Post-Hotfix check out our guide over here.
Note: We're constantly updating our guides to make sure you receive the most accurate and up to date information. With that said if we miss out on any weapons or equipment pieces in this massive list feel free to let us know in the comments down below.
Skul Dugger
Rogue Imp
| | |
| --- | --- |
| Weapon Type | Assault Rifle |
| Element | Fire |
| Drops From | World Drop Only |
| Quest/ Challenge | – |
| Location | – |
| Summary | Sends out 3 homing projectiles when overheated |
Liquid Cooling
| | |
| --- | --- |
| Weapon Type | Pistol |
| Element | Frost |
| Drops From | Lissia |
| Quest/ Challenge | Ancient Obelisk |
| Location | Crackmast Cove |
| Summary | Critical hits cool weapon to prevent overheating for longer fire |
Blue Cake
| | |
| --- | --- |
| Weapon Type | RPG |
| Element | Lightning |
| Drops From | Minibosses |
| Quest/ Challenge | Chaos Chamber |
| Location | Chaos Chamber |
| Summary | Projectiles split after a certain distance, and then split again |
Dahlia
Apex
| | |
| --- | --- |
| Weapon Type | Pistol |
| Element | Dark Magic |
| Drops From | Dragon Lord |
| Quest/ Challenge | Fatebreaker |
| Location | Crest of Fate |
| Summary | Shoots swirling projectiles & Homing bats |
Perceiver
| | |
| --- | --- |
| Weapon Type | Pistol |
| Element | Can be any element |
| Drops From | Oculus |
| Quest/ Challenge | Ancient Obelisk |
| Location | Sunfang Oasis |
| Summary | 1/6 chance on crit to regen 20% ammo for 5s |
Ruby's Spite
| | |
| --- | --- |
| Weapon Type | Pistol |
| Element | Dark Magic Damage |
| Drops From | Monstrous Shroom |
| Quest/ Challenge | Ancient Obelisk |
| Location | Weepwild Dankness |
| Summary | Grants double fire rate & homing shots on kill |
Live Wire
| | |
| --- | --- |
| Weapon Type | SMG |
| Element | Lightning |
| Drops From | World Drop Only |
| Quest/ Challenge | – |
| Location | – |
| Summary | Shoots continuous beam |
White Rider
| | |
| --- | --- |
| Weapon Type | SMG |
| Element | Poison |
| Drops From | Wastard |
| Quest/ Challenge | The Son of a Witch |
| Location | Karnok's Wall |
| Summary | Fires continuous beam that connects to nearby enemy |
Skeep Prod
| | |
| --- | --- |
| Weapon Type | Sniper |
| Element | Lightning |
| Drops From | World Drop Only |
| Quest/ Challenge | – |
| Location | – |
| Summary | – |
Hyperius
Circuitus Gyre
| | |
| --- | --- |
| Weapon Type | SG |
| Element | Poison |
| Drops From | Chaos Chamber |
| Quest/ Challenge | Chaos Chamber |
| Location | Chaos Chamber |
| Summary | Increases fire rate as it is fired |
Red Hellion
| | |
| --- | --- |
| Weapon Type | SG |
| Element | Fire, Lightning, Dark Magic |
| Drops From | Obsidian Wyvern |
| Quest/ Challenge | Ancient Obelisk |
| Location | Tangledrift |
| Summary | Increases projectile count depending on movement speed |
Blazing Volley
| | |
| --- | --- |
| Weapon Type | SMG |
| Element | Fire |
| Drops From | World Drop Only |
| Quest/ Challenge | – |
| Location | – |
| Summary | Homing shots that explode on impact. 6-round burst. High burst delay |
Wizard's Pipe
| | |
| --- | --- |
| Weapon Type | SMG |
| Element | Fire. Poison, Lightning, Frost, Dark Magic |
| Drops From | Parasite |
| Quest/ Challenge | Walk the Stalk |
| Location | Tangledrift |
| Summary | Shoots elemental orbs that adapt to enemy's health type |
Used/Antique Greatbow
| | |
| --- | --- |
| Weapon Type | Sniper |
| Element | Fire. Poison, Lightning, Frost, Dark Magic |
| Drops From | Thorne Shadow |
| Quest/ Challenge | The Crazed Earl |
| Location | Overworld |
| Summary | Changes listed stats once fired for the first time |
Kao Khan
| | |
| --- | --- |
| Weapon Type | Sniper |
| Element | Any |
| Drops From | Minibosses |
| Quest/ Challenge | Chaos Chamber |
| Location | Chaos Chamber |
| Summary | Changes listed stats once fired for the first time |
Black Powder
Cross bolt Generator
| | |
| --- | --- |
| Weapon Type | Assault Rifle |
| Element | Frost |
| Drops From | Kastor |
| Quest/ Challenge | A Small Favor |
| Location | Tangledrift |
| Summary | Crossbolts ricochet and explode 3 times |
Catatumbo
| | |
| --- | --- |
| Weapon Type | Pistol |
| Element | Lightning |
| Drops From | World Drop Only |
| Quest/ Challenge | – |
| Location | – |
| Summary | Crit strikes lightning on enemy & ricochets 2 bullets at nearest enemy |
Masterwork Handbow
| | |
| --- | --- |
| Weapon Type | Pistol |
| Element | Frost |
| Drops From | Captain Swallow |
| Quest/ Challenge | Grindanna² |
| Location | Overworld |
| Summary | Crit ricochets 6 crossbolts at nearest enemy and restores bullet to magazine |
Crossblade
| | |
| --- | --- |
| Weapon Type | SG |
| Element | Any 2 |
| Drops From | Gloopathoth |
| Quest/ Challenge | Raid Boss |
| Location | Chaos Chamber |
| Summary | Shoots a cross of 2 different elemental slashes |
Reign of Arrows
| | |
| --- | --- |
| Weapon Type | SG |
| Element | Frost |
| Drops From | Minibosses |
| Quest/ Challenge | Chaos Chamber |
| Location | Chaos Chamber |
| Summary | Rains arrows on highlighted area. Can damage you. |
Carrouser
| | |
| --- | --- |
| Weapon Type | Sniper |
| Element | Fire |
| Drops From | Minibosses |
| Quest/ Challenge | Chaos Chamber |
| Location | Chaos Chamber |
| Summary | Charms enemies to fight for player. Charmed enemy draws aggro away from your aggro |
Envy
| | |
| --- | --- |
| Weapon Type | Sniper |
| Element | Poison |
| Drops From | King Q'urub |
| Quest/ Challenge | Ancient Obelisk |
| Location | Drowned Abyss |
| Summary | Ricochet on Critical Hits spawns Dark Magic pool under enemy |
Feriore
Gluttony
| | |
| --- | --- |
| Weapon Type | Pistol |
| Element | Frost and Dark Magic |
| Drops From | Droll the Troll |
| Quest/ Challenge | Ancient Obelisk |
| Location | Queen's Gate |
| Summary | Thrown weapon creates Dagger Storm, singularity, & reduces HP to 50% |
Boniface's Soul
| | |
| --- | --- |
| Weapon Type | Pistol |
| Element | Any |
| Drops From | Mushroom Healer |
| Quest/ Challenge | Little Boys Blue |
| Location | Weepwild |
| Summary | Thrown weapon homes on enemies & explodes on impact, restoring [some] Ward |
Sworderang
| | |
| --- | --- |
| Weapon Type | SG |
| Element | Any |
| Drops From | Mandiblon |
| Quest/ Challenge | Ancient Obelisk |
| Location | Ossu-Gol |
| Summary | Reload spins through the air like a boomerang. Explodes on impact |
Borea's Breath
| | |
| --- | --- |
| Weapon Type | SMG |
| Element | Frost |
| Drops From | Ribula |
| Quest/ Challenge | Bunkers & Badasses |
| Location | Snoring Valley |
| Summary | Reload throw spawns frost spikes on every bounce |
Fragment Rain
| | |
| --- | --- |
| Weapon Type | SMG |
| Element | Frost |
| Drops From | Minibosses |
| Quest/ Challenge | Chaos Chamber |
| Location | Chaos Chamber |
| Summary | Reload explodes on impact |
Shadowfire
| | |
| --- | --- |
| Weapon Type | SMG |
| Element | Fire and Dark Damage |
| Drops From | Mushroom Healer |
| Quest/ Challenge | Little Boys Blue |
| Location | Weepwild |
| Summary | Reload casts pillar of elemental damage on impact |
Throwable Hole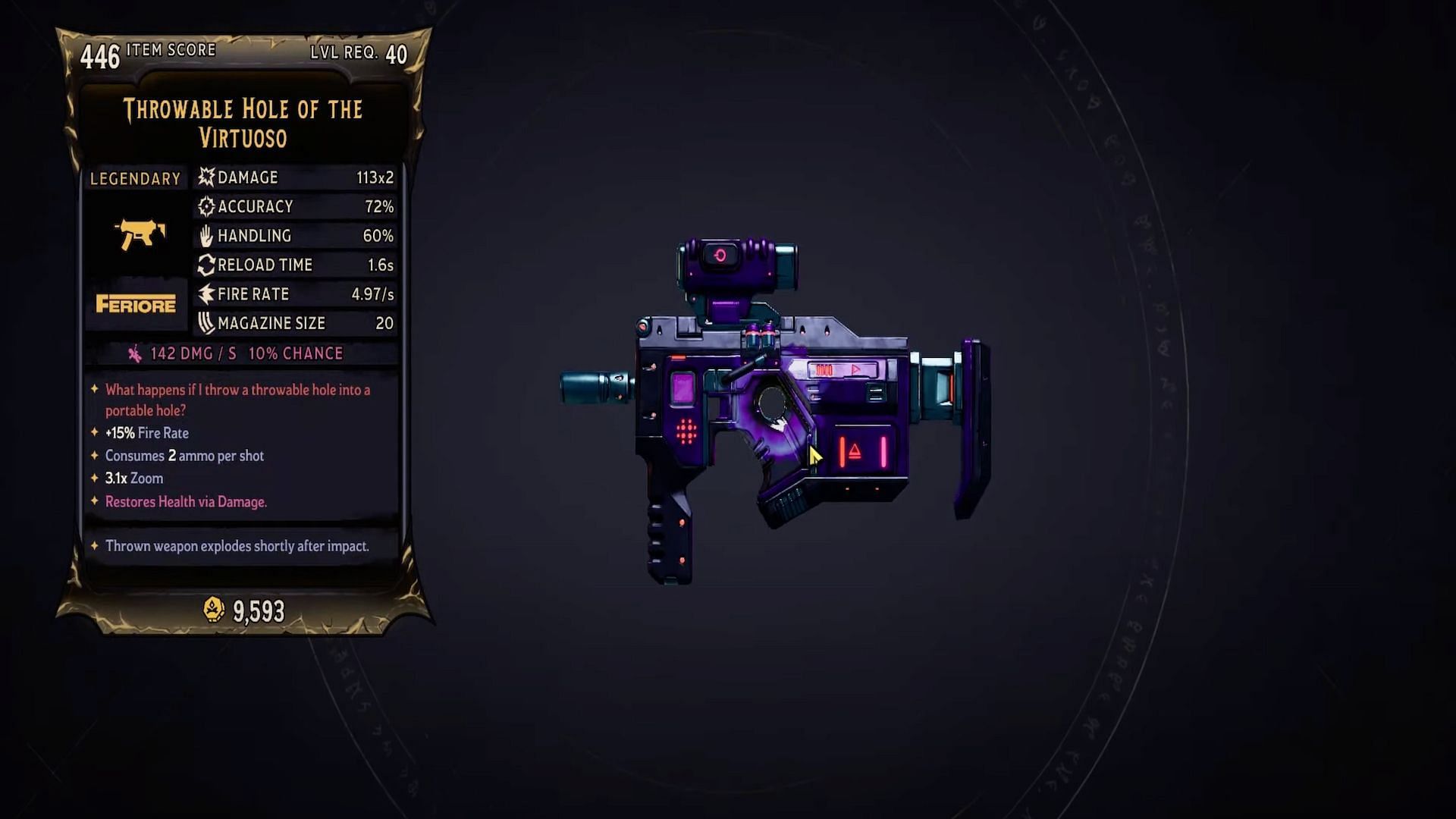 | | |
| --- | --- |
| Weapon Type | SMG |
| Element | – |
| Drops From | Chaos Chamber |
| Quest/ Challenge | Chaos Chamber |
| Location | Chaos Chamber |
| Summary | Reload creates black hole, throwing additional reloads at hole expands it |
Torgue
Message
| | |
| --- | --- |
| Weapon Type | Pistol |
| Element | Poison |
| Drops From | World Drop Only |
| Quest/ Challenge | – |
| Location | – |
| Summary | Shoots fish that explodes repeatedly |
Cannonballer
| | |
| --- | --- |
| Weapon Type | RPG |
| Element | Frost |
| Drops From | LeChance |
| Quest/ Challenge | Ballad of Bones |
| Location | Wargtooth |
| Summary | Shoots cannonballs with large explosive radius. Alternative: Multiball |
Hawkins' Wrath
| | |
| --- | --- |
| Weapon Type | SG |
| Element | Fire |
| Drops From | Chaos Chamber |
| Quest/ Challenge | Chaos Chamber |
| Location | Chaos Chamber |
| Summary | Shoots wyverns |
Swordsplosion
| | |
| --- | --- |
| Weapon Type | SG |
| Element | Any |
| Drops From | LeChance |
| Quest/ Challenge | Ballad of Bones |
| Location | Wargtooth |
| Summary | Stickies enlarge when exploded. Stuck swords increase damage by 30% each. |
Stoker
Donkey
| | |
| --- | --- |
| Weapon Type | Assault Rifle |
| Element | Poison |
| Drops From | Droll the Troll |
| Quest/ Challenge | Ancient Obelisk |
| Location | Queen's Gate |
| Summary | Sawblades deal +1% damage for each Sawblade in target. Sawblades last 4s |
Lil K's Bread Slicer
| | |
| --- | --- |
| Weapon Type | Assault Rifle |
| Element | Any |
| Drops From | World Drop Only |
| Quest/ Challenge | – |
| Location | – |
| Summary | Shoots 3 rows of bouncing piercing sawblades. Alt: explosive bread |
Manual Transmission
| | |
| --- | --- |
| Weapon Type | Assault Rifle |
| Element | Any |
| Drops From | Vorcanar |
| Quest/ Challenge | The Slayer of… |
| Location | Mount Craw |
| Summary | Switching modes at full heat will up-shift the weapon |
Automagic.exe
| | |
| --- | --- |
| Weapon Type | Pistol |
| Element | Any |
| Drops From | Banshee |
| Quest/ Challenge | Thy Bard… |
| Location | Weepwild Dankness |
| Summary | Alt: Tracker dart. Main Fire Mode homes in on tracked target |
Queen's Cry
| | |
| --- | --- |
| Weapon Type | Pistol |
| Element | Frost |
| Drops From | The Maker |
| Quest/ Challenge | Raid Boss |
| Location | Chaos Chamber |
| Summary | Summons meteors on Critical Hit sometimes |
Dry'I's Fury
| | |
| --- | --- |
| Weapon Type | Sniper |
| Element | Fire |
| Drops From | Dry'l |
| Quest/ Challenge | Mortal Coil |
| Location | Drowned Abyss |
| Summary | Alt: slow moving orb that explodes on impact or when shot |
Portable Sawmill
| | |
| --- | --- |
| Weapon Type | Sniper |
| Element | Any |
| Drops From | Chaos Chamber |
| Quest/ Challenge | Chaos Chamber |
| Location | Chaos Chamber |
| Summary | – |
Melee
Diamondguard Sword
| | |
| --- | --- |
| Weapon Type | Swift Swords |
| Element | Frost |
| Drops From | Minibosses |
| Quest/ Challenge | Chaos Chamber |
| Location | Chaos Chamber |
| Summary | Melee deals random elemental damage & +status effect chance & damage by 10% for 10s. Stacks 5x |
Ragnarok
| | |
| --- | --- |
| Weapon Type | Swift Swords |
| Element | Any |
| Drops From | The Maker |
| Quest/ Challenge | Raid Boss |
| Location | Chaos Chamber |
| Summary | Melee shoots ranged slash that deals melee damage & applies sticky bomb |
Spellblade
| | |
| --- | --- |
| Weapon Type | Swift Swords |
| Element | Any |
| Drops From | Wastard |
| Quest/ Challenge | The Son of a Witch |
| Location | Karnok's Wall |
| Summary | Melee deals spell damage instead of melee & increases spell critical hit chance by 80% for 6s |
Twin Soul
| | |
| --- | --- |
| Weapon Type | Swift Swords |
| Element | Fire, Poison, Lightning, Dark Magic, Frost |
| Drops From | Knight Mare |
| Quest/ Challenge | Soul Purpose |
| Location | Ossu-Gol |
| Summary | Rolls with two general melee abilities (Amped, Caustic, Rampage, Vampire, Warrior, etc.) |
Goblin Pickaxe
| | |
| --- | --- |
| Weapon Type | Kleave Axes |
| Element | Frost, Fire, Poison, Lightning, Frost |
| Drops From | Pigwart |
| Quest/ Challenge | Ancient Obelisk |
| Location | Mount Craw |
| Summary | Melee spawns gold. Upon pick up, +6% speed, Spell & AS cooldown rate for 5s. Stacks 5x |
Snake Stick
| | |
| --- | --- |
| Weapon Type | Kleave Axes |
| Element | Fire, Poison, Lightning, Frost |
| Drops From | World Drop Only |
| Quest/ Challenge | – |
| Location | – |
| Summary | Melee spawns a nearby Hydra Companion that deals melee damage for 6 seconds |
Fatebreaker
| | |
| --- | --- |
| Weapon Type | Valora (2-Hand) |
| Element | Frost,Fire, Poison, Lightning, Frost |
| Drops From | Dragon Lord |
| Quest/ Challenge | Fatebreaker |
| Location | Crest of Fate |
| Summary | Melee creates 3 Lightning projectiles that restore Ward equal to 100% of damage dealt |
Mage Staff
| | |
| --- | --- |
| Weapon Type | Valora (2-Hand) |
| Element | Frost and Dark Magic |
| Drops From | World Drop Only |
| Quest/ Challenge | – |
| Location | – |
| Summary | Melee creates up to 3 homing fissures dealing up to 110% weapon damage as spell damage |
Storm Surge
| | |
| --- | --- |
| Weapon Type | Valora (2-Hand) |
| Element | Lightning |
| Drops From | Dry'l |
| Quest/ Challenge | Mortal Coil |
| Location | Drowned Abyss |
| Summary | Melee applies Shock. Affected enemies have a 25% chance to be struck by Lightning periodically |
Wailing Banshee
| | |
| --- | --- |
| Weapon Type | Valora (2-Hand) |
| Element | Frost, Poison, Lightning |
| Drops From | Banshee |
| Quest/ Challenge | Thy Bard… |
| Location | Weepwild Dankness |
| Summary | Melee creates up to 3 homing projectiles that deal 50% weapon damage |
Frying Pan
| | |
| --- | --- |
| Weapon Type | Bonk (Blunt) |
| Element | Fire, Lightning, Frost |
| Drops From | World Drop Only |
| Quest/ Challenge | – |
| Location | – |
| Summary | Meleeing gains 90% chance to reflect incoming bullets and 15% while holstered |
Peg Leg
| | |
| --- | --- |
| Weapon Type | Bonk (Blunt) |
| Element | Fire, Lightning |
| Drops From | LeChance |
| Quest/ Challenge | Ballad of Bones |
| Location | Wargtooth |
| Summary | Melee increases movement speed by 30% & reload speed by 40% for 10 seconds |
Pincushion
| | |
| --- | --- |
| Weapon Type | Bonk (Blunt) |
| Element | Frost, Fire, Poison, Dark Magic |
| Drops From | World Drop Only |
| Quest/ Challenge | – |
| Location | – |
| Summary | Melee explodes on hit, dealing 15% wpn dmg per crossbolt attached to enemy |
Slammin' Salmon
| | |
| --- | --- |
| Weapon Type | Bonk (Blunt) |
| Element | Poison |
| Drops From | The Great Wight |
| Quest/ Challenge | Ancient Obelisk |
| Location | Wargtooth |
| Summary | Melee always applies poison status. Stacks up to 5 times |
Wards
Afterburner
| | |
| --- | --- |
| Element | Fire |
| Drops From | World Drop Only |
| Quest/ Challenge | – |
| Location | – |
| Summary | Triggers 3141×6 (lvl 40) Fire Damage on Ward Break and Fill |
Ancient Deity
| | |
| --- | --- |
| Element | Poison, Lightning, Dark Magic |
| Drops From | Shara |
| Quest/ Challenge | Ancient Obelisk |
| Location | Karnok's Wall |
| Summary | +20% Elemental damage resist. -20% Physical damage resist. +10% [Element] Damage |
Bad Egg
| | |
| --- | --- |
| Element | Frost |
| Drops From | Magical Splotch |
| Quest/ Challenge | Throatus Punchus |
| Location | Overworld |
| Summary | +20% Movement Speed. While Depleted: melee damage deals +35% Dark Magic damage |
Bronco Buster
| | |
| --- | --- |
| Element | Frost |
| Drops From | World Drop Only |
| Quest/ Challenge | – |
| Location | – |
| Summary | While full, regenerate HP |
Cursed Wit
| | |
| --- | --- |
| Element | Poison |
| Drops From | Ribula |
| Quest/ Challenge | Bunkers & Badasses |
| Location | Snoring Valley |
| Summary | While depleted, gain +17% dmg reduction & +100% dmg dealt to nearby enemies |
Full Battery
| | |
| --- | --- |
| Element | Lightning |
| Drops From | QR / Chaos Chamber |
| Quest/ Challenge | The Son of a Witch |
| Location | – |
| Summary | While full, taking damage strikes nearby enemy with Lightning Bolt |
Hammer and Anvil
| | |
| --- | --- |
| Element | Frost |
| Drops From | Bucket Head |
| Quest/ Challenge | Zoomios¹ |
| Location | Overworld |
| Summary | When taking damage while full, summons homing hammer that deals melee damage & knockback |
Kinetic Friction
| | |
| --- | --- |
| Element | Fire, Poison, Lightning, Frost |
| Drops From | World Drop Only |
| Quest/ Challenge | – |
| Location | – |
| Summary | Health regenerates while sliding |
Last Grasp
| | |
| --- | --- |
| Element | Fire, Lightning, Frost |
| Drops From | Zomboss |
| Quest/ Challenge | A Hard Day's Knight |
| Location | Shattergrave Barrow |
| Summary | +25% Fire Rate. +20% Reload Speed. Regenerates ammo while depleted |
Maced Wardu
| | |
| --- | --- |
| Element | Poison and Dark Magic |
| Drops From | The Great Wight |
| Quest/ Challenge | Ancient Obelisk |
| Location | Karnok's Wall |
| Summary | Enemies who melee Fatemaker while warded, take melee damage based on equipped melee |
Body Rune
| | |
| --- | --- |
| Element | Fire |
| Drops From | Bunnidhogg |
| Quest/ Challenge | Raid Boss |
| Location | Chaos Chamber |
| Summary | Kill restores 15% Max HP and you deal +20% bonus Fire damage for short duration |
Master Rune
| | |
| --- | --- |
| Element | Frost |
| Drops From | World Drop Only |
| Quest/ Challenge | – |
| Location | – |
| Summary | +25% Companion damage |
Spirit Rune
| | |
| --- | --- |
| Element | Lightning |
| Drops From | World Drop Only |
| Quest/ Challenge | – |
| Location | – |
| Summary | While standing still,+20% Lightning damage & 0 Ward Regeneration Delay |
Shamwai
| | |
| --- | --- |
| Element | Fire, Poison, Frost, Lightning, Dark Magic |
| Drops From | King Q'urub |
| Quest/ Challenge | Ancient Obelisk |
| Location | Drowned Abyss |
| Summary | +80% chance to Absorb bullets as Ammo. Drops an elemental puddle on break |
Static Charge
| | |
| --- | --- |
| Element | Dark Magic |
| Drops From | World Drop Only |
| Quest/ Challenge | – |
| Location | – |
| Summary | Ward regenerates while sliding |
Transistor
| | |
| --- | --- |
| Element | Lightning and Frost |
| Drops From | Vorcanar |
| Quest/ Challenge | Slayer of Vorcanar |
| Location | Mount Craw |
| Summary | +20% elemental damage of last damage type taken |
Trick Mirror
| | |
| --- | --- |
| Element | – |
| Drops From | Chaos Chamber |
| Quest/ Challenge | Chaos Chamber |
| Location | Chaos Chamber |
| Summary | While Ward is not depleted, +75% chance to reflect bullets and arrows at enemies |
Undead Pact
| | |
| --- | --- |
| Element | Poison |
| Drops From | Zomboss |
| Quest/ Challenge | A Hard Day's Knight |
| Location | Shattergrave Barrow |
| Summary | On depletion, sends out 3 homing elemental skulls that shoot at enemies |
Ring
Championship Ring
| | |
| --- | --- |
| Drops From | World Drop Only |
| Summary | Dealing damage to a boss increases effects [ring stats] by 100% for ["moderate amount of time"] |
Class Ring
| | |
| --- | --- |
| Drops From | World Drop Only |
| Summary | While Action Skill is cooling down, effects [ring stats] are increased by 50% |
Finger Ward
| | |
| --- | --- |
| Drops From | World Drop Only |
| Summary | While Ward is full, ring stats are increased by 100% |
Fingertip Pulse Oximeter
| | |
| --- | --- |
| Drops From | World Drop Only |
| Summary | While Health is less than 50%, effects [ring stats] are increased by 50% |
Mood Ring
| | |
| --- | --- |
| Drops From | World Drop Only |
| Summary | While Ward is not full, effects [ring stats] are increased 100% |
Promise Ring
| | |
| --- | --- |
| Drops From | World Drop Only |
| Summary | While Action Skill is ready, effects [ring stats] are increased 25% |
Shell Casing Ring
| | |
| --- | --- |
| Drops From | World Drop Only |
| Summary | While equipped gun is low on ammo, effects [ring stats] are increased 50% |
Silicone Ring
| | |
| --- | --- |
| Drops From | World Drop Only |
| Summary | While Health is above 50%, effects [ring stats] are increased by 25% |
Thumb Cuffs
| | |
| --- | --- |
| Drops From | World Drop Only |
| Summary | While in a Dungeon, effects [ring stats] are increased by 25% |
Amulet
Blaze of Glory
| | |
| --- | --- |
| Drops From | Chaos Chamber |
| Quest/ Challenge | Chaos Chamber |
| Location | Chaos Chamber |
| Summary | On entering SYS, reloads weapon & +30% Fire damage. SYS timer depletes 50% faster |
Bradluck
| | |
| --- | --- |
| Drops From | World Drop Only |
| Quest/ Challenge | – |
| Location | – |
| Summary | +30% Loot Luck (lvl 40). Gain 'Bradluck' which applies random bad effect every 8s |
Frenzied Wrath
| | |
| --- | --- |
| Drops From | Knight Mare |
| Quest/ Challenge | Soul Purpose |
| Location | Ossu-Gol |
| Summary | On kill, Companion damage is increased by 20% for 15s. Stacks up to 5x |
Harbinger
| | |
| --- | --- |
| Drops From | World Drop Only |
| Quest/ Challenge | – |
| Location | – |
| Summary | Activating an Action Skill instantly restores 50% of your Ward over 2 seconds |
Joint Training
| | |
| --- | --- |
| Drops From | Obsidian Wyvern |
| Quest/ Challenge | Ancient Obelisk |
| Location | Tangledrift |
| Summary | Crits give companion +80% crit chance for 6s. Companion crits give you +30% crit dmg for 6s |
Overflow Bloodbag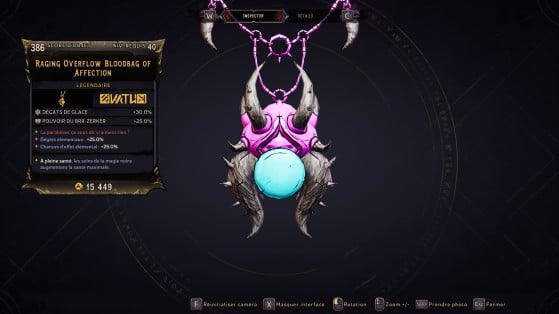 | | |
| --- | --- |
| Drops From | Death Rattler |
| Quest/ Challenge | Ancient Obelisk |
| Location | The Fearamid |
| Summary | While HP is full, healing from Dark Magic increases Max HP |
Sacrificial Skeep
| | |
| --- | --- |
| Drops From | Mandiblon |
| Quest/ Challenge | Ancient Obelisk |
| Location | Ossu-Gol |
| Summary | When HP is below 50%, summon a Sacrificial Skeep. 30s Cooldown |
Theurge
| | |
| --- | --- |
| Drops From | Grissom Whitmore |
| Quest/ Challenge | Grindanna¹ |
| Location | Overworld |
| Summary | On spell cast: -20% Action Skill Cooldown. +30% Spell dmg while Action Skill is on cooldown |
Universal Soldier
| | |
| --- | --- |
| Drops From | – |
| Quest/ Challenge | – |
| Location | – |
| Summary | Melee damage has a 30% chance to instantly reload all equipped guns |
Spells
Barrelmaker
| | |
| --- | --- |
| Weapon Type | Arken (Channel) |
| Element | Any |
| Drops From | Pigwart |
| Quest/ Challenge | Ancient Obelisk |
| Location | Mount Craw |
| Summary | Casts exploding barrel |
Laserhand
| | |
| --- | --- |
| Weapon Type | Arken (Channel) |
| Element | Fire |
| Drops From | Chaos Chamber |
| Quest/ Challenge | Chaos Chamber |
| Location | Chaos Chamber |
| Summary | – |
Threads of Fate
| | |
| --- | --- |
| Weapon Type | Arken (Channel) |
| Element | Dark Magic |
| Drops From | Lissia |
| Quest/ Challenge | Ancient Obelisk |
| Location | Crackmast Cove |
| Summary | Casts very slow ball that threads to nearby enemies. [x3, x4]- |
Arcane Bolt
| | |
| --- | --- |
| Weapon Type | Conjura (Fire and Forget) |
| Element | Lightning, Frost, Dark Magic |
| Drops From | Minibosses |
| Quest/ Challenge | Chaos Chamber |
| Location | Chaos Chamber |
| Summary | Crit reduces cooldown of spell |
Dazzler
| | |
| --- | --- |
| Weapon Type | Conjura (Fire and Forget) |
| Element | Lightning |
| Drops From | Chaos Chamber |
| Quest/ Challenge | Chaos Chamber |
| Location | Chaos Chamber |
| Summary | Casts firework-like projectile that zips around target area |
Frozen Orb
| | |
| --- | --- |
| Weapon Type | Conjura (Fire and Forget) |
| Element | Frost |
| Drops From | Barkenstein |
| Quest/ Challenge | Raid Boss |
| Location | Chaos Chamber |
| Summary | Casts a large slow-moving orb that damages nearby enemies |
Gelatinous Cube
| | |
| --- | --- |
| Weapon Type | Conjura (Fire and Forget) |
| Element | Poison |
| Drops From | Frondstrocity |
| Quest/ Challenge | Zoomios² |
| Location | Overworld |
| Summary | Casts large cube that bounces sporadically, leaving poison pools every bounce. Explodes |
Glacial Cascade
| | |
| --- | --- |
| Weapon Type | Conjura (Fire and Forget) |
| Element | Frost |
| Drops From | Chaos Chamber |
| Quest/ Challenge | Chaos Chamber |
| Location | Chaos Chamber |
| Summary | Casts surge of ice spikes from the ground in direction of cast |
Marshmallow
| | |
| --- | --- |
| Weapon Type | Conjura (Fire and Forget) |
| Element | Fire |
| Drops From | Chaos Chamber |
| Quest/ Challenge | Chaos Chamber |
| Location | Chaos Chamber |
| Summary | Casts marshmallow that explodes into [3] healing marshmallows |
Reviver
| | |
| --- | --- |
| Weapon Type | Conjura (Fire and Forget) |
| Element | Lightning |
| Drops From | Mushroom Healer |
| Quest/ Challenge | Little Boys Blue |
| Location | Weepwild |
| Summary | Heals allies and revives downed allies. [x1, x2] |
Skullantir
| | |
| --- | --- |
| Weapon Type | Conjura (Fire and Forget) |
| Element | Dark Magic |
| Drops From | – |
| Quest/ Challenge | – |
| Location | – |
| Summary | Casts talking skull that flies around self |
Twister
| | |
| --- | --- |
| Weapon Type | Conjura (Fire and Forget) |
| Element | Any 2 |
| Drops From | Banshee |
| Quest/ Challenge | Thy Bard… |
| Location | Weepwild Dankness |
| Summary | Casts swirl of two different elemental projectiles that pulls enemies in. [x16] |
Buffmeister
| | |
| --- | --- |
| Weapon Type | Conjura (Fire and Forget) |
| Element | Any |
| Drops From | World Drop Only |
| Quest/ Challenge | – |
| Location | – |
| Summary | Adds spell's elemental damage to attacks. 100% crit chance |
Inflammation
| | |
| --- | --- |
| Weapon Type | Conjura (Fire and Forget) |
| Element | Fire |
| Drops From | Shara |
| Quest/ Challenge | Ancient Obelisk |
| Location | Karnok's Wall |
| Summary | Constant flamethrower blast |
Sawblades
| | |
| --- | --- |
| Weapon Type | Conjura (Fire and Forget) |
| Element | Poison |
| Drops From | World Drop Only |
| Quest/ Challenge | – |
| Location | – |
| Summary | Casts bouncing sawblades |
Time Skip
| | |
| --- | --- |
| Weapon Type | Conjura (Fire and Forget) |
| Element | Dark Magic |
| Drops From | Chaos Chamber |
| Quest/ Challenge | Chaos Chamber |
| Location | Chaos Chamber |
| Summary | Casts up to 5 floating projectiles that fire after spell is finished |
Armor
Amalgam
| | |
| --- | --- |
| Drops From | Monstrous Shroom |
| Quest/ Challenge | Ancient Obelisk |
| Location | Weepwild Dankess |
| Summary | 5 Passive Bonuses |
Blank Slate
| | |
| --- | --- |
| Drops From | World Drop Only |
| Quest/ Challenge | – |
| Location | – |
| Summary | Increases experience gain by 10%. [Can roll with other passives or none] |
Calamity
| | |
| --- | --- |
| Drops From | Oculus |
| Quest/ Challenge | Ancient Obelisk |
| Location | Sunfang Oasis |
| Summary | Increases Fire damage by 10% for each unique enemy hit for brief time. Stacks up to 10x |
Claw
| | |
| --- | --- |
| Drops From | Obsidian Wyvern |
| Quest/ Challenge | Ancient Obelisk |
| Location | Tangledrift |
| Summary | Companion damage is converted into [E] damage. Enemies hit by compan. take +20% [E] damage for 6s |
Corrupted Platemail
| | |
| --- | --- |
| Drops From | Dragon Lord |
| Quest/ Challenge | Fatebreaker |
| Location | Crest of Fate |
| Summary | Convert 30% of damage dealt to Dark Magic damage. +30% Dark Magic efficiency |
Deathless Mantle
| | |
| --- | --- |
| Drops From | Death Rattler |
| Quest/ Challenge | Ancient Obelisk |
| Location | The Fearamid |
| Summary | Reserve all but 1 HP, returning 150% as Ward Capacity. -50% Ward Regen Delay |
Diamond Gauntlets
| | |
| --- | --- |
| Drops From | Minibosses |
| Quest/ Challenge | Chaos Chamber |
| Location | Chaos Chamber |
| Summary | While standing still: +50% crit chance, Dark Magic efficiency, [Element] damage |
Head of the Snake
| | |
| --- | --- |
| Drops From | Salissa |
| Quest/ Challenge | The Ditcher |
| Location | Sunfang Oasis |
| Summary | Periodically teleports hydra companions next to self. Kills extend duration of hydras by 30% |
Pandemecium
| | |
| --- | --- |
| Drops From | Parasite |
| Quest/ Challenge | Walk the Stalk |
| Location | Tangledrift |
| Summary | Whenever a Poison DoT is in effect, 15% chance for enemy to explode for Poison damage |
Selective Amnesia
| | |
| --- | --- |
| Drops From | Quest Reward |
| Quest/ Challenge | Fatebreaker |
| Location | The Fearamid |
| Summary | Taking damage ignites self. While +movement speed & fire trail for 3s, +damage x movement speed |
Smart Armor
| | |
| --- | --- |
| Drops From | Vorcanar |
| Quest/ Challenge | Slayer of Vorcanar |
| Location | Mount Craw |
| Summary | Total Critical hit chance is reduced by 50% but Critical damage is increased by 50% |
Warped Paradigm
| | |
| --- | --- |
| Drops From | Kastor |
| Quest/ Challenge | A small Favor |
| Location | Tangledrift |
| Summary | Two of (Spell, Ability or Melee) damage are increased by 50% of remaining stat |
---
And that concludes all the weapons, equipment and where to find them in Tiny Tina's Wonderlands. Which one will you use for your build? Let us know in the comments down below. Till next time, Ciao