If you're a fan of the latest Star Wars game, you've considered buying the latest game in the franchise, Star Wars Jedi: Survivor. However, you might be wondering whether the Deluxe Edition justifies the extra $20. Let's see whether the Deluxe Edition for Star Wars Jedi: Survivor is worth it.
If you're strapped for cash, the Deluxe Edition for Star Wars Jedi: Survivor is not worth it. Since its bonuses are entirely cosmetic, but if you've got the money, and are a die-hard Star Wars fan, then you find the extra cost worth it.
Read on to learn more about the benefits of purchasing the Deluxe Edition of Star Wars Jedi: Survivor.
What's in the Deluxe Edition?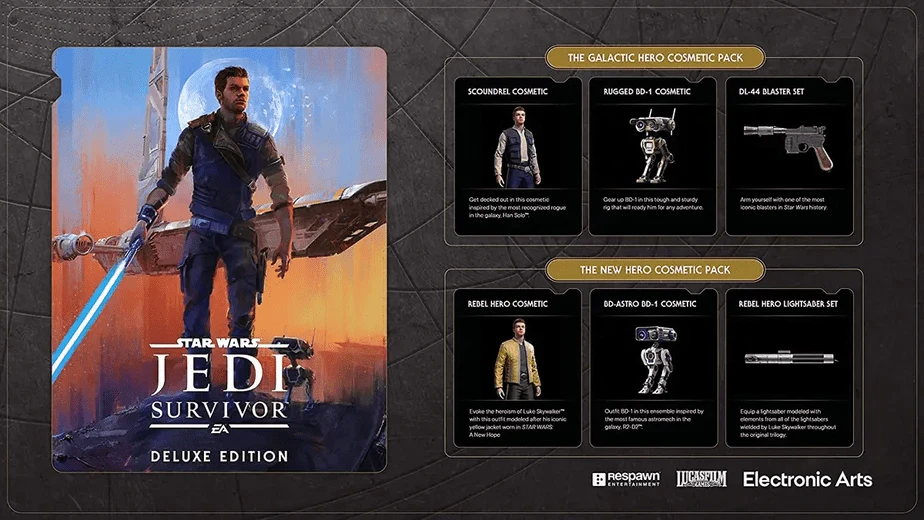 Nowadays, it feels like every new AAA game comes out with two versions. Star Wars Jedi: Survivor is no different. While the Standard version will net you the full game with all story missions and primary content, the Deluxe offers a few exclusive cosmetic items for $20 extra.
If you're leaning towards buying the Deluxe Edition, then you probably want to know what unique items and cosmetics you'll receive as opposed to the Standard version. Remember, there is no in-game method so far to earn these rewards. With that said, here's a list of the bonuses:
Scoundrel skin
Rugged BD-1 skin
DL-44 Blaster
Rebel Hero skin
BD Astro BD-1 skin
Rebel Hero lightsaber
As you can probably tell, these items are purely cosmetic. What you get is two Cal Kestis skins, two BD-1 skins, and a DL-44 blaster with Rebel Hero lightsaber decals will be included. This means that regardless of whether you purchase the Standard Edition or the Deluxe Edition, you will receive no benefit in gameplay.
This is the sad truth for any of you hoping to get a gameplay boon at the start of Star Wars Jedi: Survivor. Although, if you're a massive Star Wars fan, I know I am, then you'll be a fan of customizing Cal to your preference. So if you want to give Cal a unique look, then the Deluxe Edition has got you covered.
EA Play Subscription
What's EA Play you wonder? Well, it's a subscription-based service that the folks at Electronic Arts are offering players. This allows you to experience EA Studios' games at a more affordable price. This means that with EA Play, you can get massive discounts and free games for a sub that costs $4.99.
If you have an EA Play Account, then you can get a 10% discount on buying Star Wars Jedi: Survivor. Which is pretty neat if I do say so myself. The money you save means that the price point for the Deluxe Edition becomes far more comparable to the Standard Edition.
Is The Deluxe Edition Worth it?
The answer to that question is kinda complex. You see, it all depends on your preferences. The Deluxe Edition asks for $20 and provides a multitude of cosmetic rewards. But if you're barely affording the game as it is, due to the price hikes, then it's not worth it.
That being said, if you're a die-hard Star Wars fan, or you're wallet isn't so tight, then buying the Deluxe Edition can be a great way to show your appreciation for the game. Just remember that you don't lose any of the primary content of Star Wars Jedi: Survivor by purchasing the Standard version.
---
The choice, ultimately, is up to you. Whether you buy the Deluxe Edition of Star Wars Jedi Survivor or the Standard version, choose how you want to play the games and take a look at your budget as well. You'll have a fantastic experience either way.
May the Force be with you, and happy gaming!