Roblox has soared in popularity, which is quite evident if you visit Youtube, owing to its open design where anyone can easily create any type of game they want. Another game genre that hugely impacts the gaming industry is survival games, with newer iterations constantly being released.
Survival games are being created in abundance on Roblox, but you might want to steer clear of the bad imitations; this is where our list comes in as we will direct you toward the best in the bunch.
And as an added flavor, we will try to focus on those games that have a hint of Rust in them, which is one the most lowkey favorite survival game out there.
The 9 best Roblox survival games like Rust are:
CATASTROPHIA Survive!
Apocalypse Rising 2
Quarantine-Z
Survival Island
Dust Wasteland Survival
DeadMist 2
Blacklands
Island 2
High Tide: Sharks vs Divers
CATASTROPHIA Survive!
Game Link: CATASTROPHIA Survive!
Visits: 5.8M+
Catastrophia is a free-roam survival game where you have to hunt, farm, craft, and fight everyone to become the top dog on the server. It's pretty much just like the Cenozoic Survival minus the primitive environment.
There are objectives in the game that you need to thoroughly follow if you want to survive otherwise, you'll end up unable to live through the game. The building and raiding mechanics in this game are very similar to Rust, down to the structures decaying as time progress.
Apocalypse Rising 2
Game Link: Apocalypse Rising 2
Visits: 21.0M+
Apocalypse Rising 2 is a sequel to the Apocalypse Rising franchise. This game continues to deliver the thrill of the popular zombie survival game. It's pretty much like DayZ, where your goal is to scavenge items and supplies to aid you in your battle against zombies and other players that are the real threat in this game.
Find over 70 different weapons to fend off the Infected and hostile players in this open-world survival shooter. Use a variety of cars, trucks, and boats to explore a diverse archipelago with up to five players in a group or on your own. Unlock unique cosmetics by finding secret locations, special Boss Infected, and random events like helicopter crash sites.
Quarantine-Z
Game Link: Quarantine-Z
Visits: 11.6M+
Quarantine-Z is yet another typical zombie survival game. What you will do here is gather loot, kill players, kill zombies, and drive cars on your own or with a team of friends. This game has more emphasis n PvP than just a simple survival game; it's always the humans you will be fighting against in the end.
Survival Island
Game Link: Survival Island
Visits: 4.6M+
Survival Island is a hardcore survival game that not only involves natural disasters, but there are also zombies looming around that will kill you once they see you. The game relies heavily on your ability to survive, especially with the hunger and thirst mechanics.
The game offers a distinctive survival experience with all the tsunamis, zombies, dust storms, thunderstorms, and much more. There are weapons you can use to kill zombies, but they aren't much use when the next natural disaster strikes.
Dust Wasteland Survival
Game Link: Dust Wasteland Survival
Visits: 115
Dust is pretty much just like Rust with a different name. Dust provides an excellent PvP survival gameplay experience while also giving you several challenges by dealing with the intricacies of trying to survive in the game. In this game, you're not just trying to be clever and witty you also need some luck and skill to outmaneuver everyone.
The game is set in Arizona and Nevada. The game features clans, items, tons of interactable items, melee weapons, range weapons, and weapon attachments. It's a pretty dope game. This game is so Rust-like that the developers of Rust shut this game down.
DeadMist 2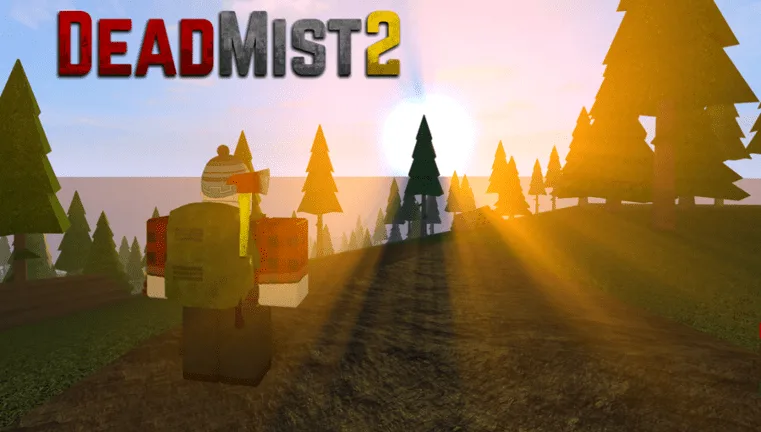 Game Link: DeadMist 2
Visits: 11.5M+
DeadMist 2 is a zombie survival game similar to DayZ and Rust combined. You will be playing in the valleys of British Columbia during the outbreak in which you will be fighting for your life.
This open-world game has one of the best DayZ-like experiences you can have in Roblox. There are tons of daily rewards, gun skins, and weapons ranging from SMGs to assault rifles and even sniper rifles. There's also a crafting feature available, as well as building mechanics.
BOOGA BOOGA
Game Link: BOOGA BOOGA
Visits: 79.0M+
Booga Booga is a game like Minecraft where you can mine, build a base, eat food, craft swords, armor, and some unique items. It's an open-world survival game that is also semi-RPG in a sense.
You start on a deserted island where you must survive all the typical survival game elements. Good graphics, a thriving community, interactive GUI, good gameplay, and much more make this one of the best Roblox survival games.
Blacklands
Game Link: Blacklands
Visits: 24.7M+
Blacklands is pretty much like playing death zone, but it's akin to playing apocalypse rising and state of anarchy. In this survival game, being a lone wolf is the worst possible option you can go with, and trusting other players is your best bet at surviving the longest.
The game features a loadout option, tons of weapons, skins, game modes like survival and battle royale modes, tons of items, and vehicles with a pretty damn good map layout.
Island 2
Game Link: Island 2
Visits: 22.2M+
Island 2 is a survival game where being brain-dead is the fastest way to rage quit. This game will test your survival skills, critical thinking, and decision making while trying to survive in these horrendous and harsh situations.
The game offers a unique and replayable loop with its upgrade function, including buffs and skills, damage reduction bonuses from coins, and everything that can help you manage your survivability.
The game also features normal, PvP, creative, classic, and single-player modes. On the surface, it might look generic, but there are a lot of layers to this package which makes it complex and gives it the PvP finesse of a game like Rust.
High Tide: Sharks vs Divers
Game Link: High Tide: Sharks vs Divers
Visits: 4.0M+
Inspired by the popular steam game Depth, High Tide is a war game between sharks and humans. You can be a diver exploring the sea bed for treasure while the other team of players will be sharks and try to hunt you down. The main objective is your survival, or if you don't like the diving part, why not be a shark and just eat your way to victory?
The game also features an awesome customization option where you can use your unlocked skins and outfits. The gameplay is round-based and has an amazing lobby you will never get bored of.
---
These are some of the best Rust-like games or survival games in general on Roblox. The games differ in their levels of survivability mechanics, each providing a distinct spin to the formula.