Minecraft has been dominant in the gaming sphere for a very long time. With the ingenious addition of community-run Minecraft servers, you can play the game however you want to, whether it be wacky PvP modes that force you to escape from a jail or a clash of factions vying for dominance over territory. These Minecraft servers have pretty much got it all.
With so many options, one might naturally ask what the best Minecraft servers are, then. Well, we're here to answer precisely that question. We've compiled a list of the Top 5 Best Minecraft PvP Servers and provided details regarding the modes they contain and their overall aesthetics. So you can decide which server you want to game in.
Without further adieu, here is our list of the Best PvP Minecraft Servers ranked:
Vortex Network
Flux PvP
Minewind
Hypixel
PvPWars
Within this article, we elaborate on the ins and outs of each of these servers and provide you with the details necessary to choose whichever server you want to play within.
5. Vortex Network
Have you ever wanted to explore the depths of space? Do you crave to see unique new planets and terrains where you can fulfill your itch for adventure? Well, then, Vortex Network is an amazing service that lets you do just that.
The Vortex Network is a space-themed Minecraft PvP server primarily designed to allow players to traverse to and from different planets the creators have constructed. You can compete with other players for resources, items, and special materials. It also boasts numerous popular modes for people on the server to enjoy, such as Prison, Skyblock, Survival, and Pixelmon.
Vortex Network is constantly in development and has an engaging team. The graphics might not be the most stellar out there, but the rich amount of content will keep you hooked for hours.
4. Flux PvP
This is a classic Minecraft PvP server. Flux PvP was started in 2019 and, since then, has been a populated landscape for players to enjoy different PvP modes such as Faction and Skyblock.
Perhaps the best thing about Flux PvP is that it supports older Minecraft builds. Versions 1.8 to 1.16.3 are all supported under Flux PvP, meaning many players can engage with it and do not require their systems to be up to date.
The Faction Mode is particularly popular in Flux PvP, which allows players to engage in an almost endless combat session vying for more and more territory while defeating other players from different factions.
3. Minewind
Minewind is a server designed to run the latest Minecraft version at the highest specs. It is essentially an Anarchy survival PvP server with MMORPG elements.
What's perhaps the most fantastic aspect of Minewind besides its beautiful design is the host of weapons, armor pieces, and items that can be exclusively obtained within this server. These weapons have varying stats and abilities, and you are rewarded for exploring the Minewind worlds with these powerful artifacts that can garner an edge in PvP combat.
Additionally, the world of Minewind is divided into several other zones that are separated based on their primary element and contain within them different monsters and challenges for you to engage with and conquer.
Finally, Minewind has a brilliant server connection, allowing you to play through the server with almost zero lag or latency. We highly recommend people wondering which server to jump into check this out.
2. Hypixel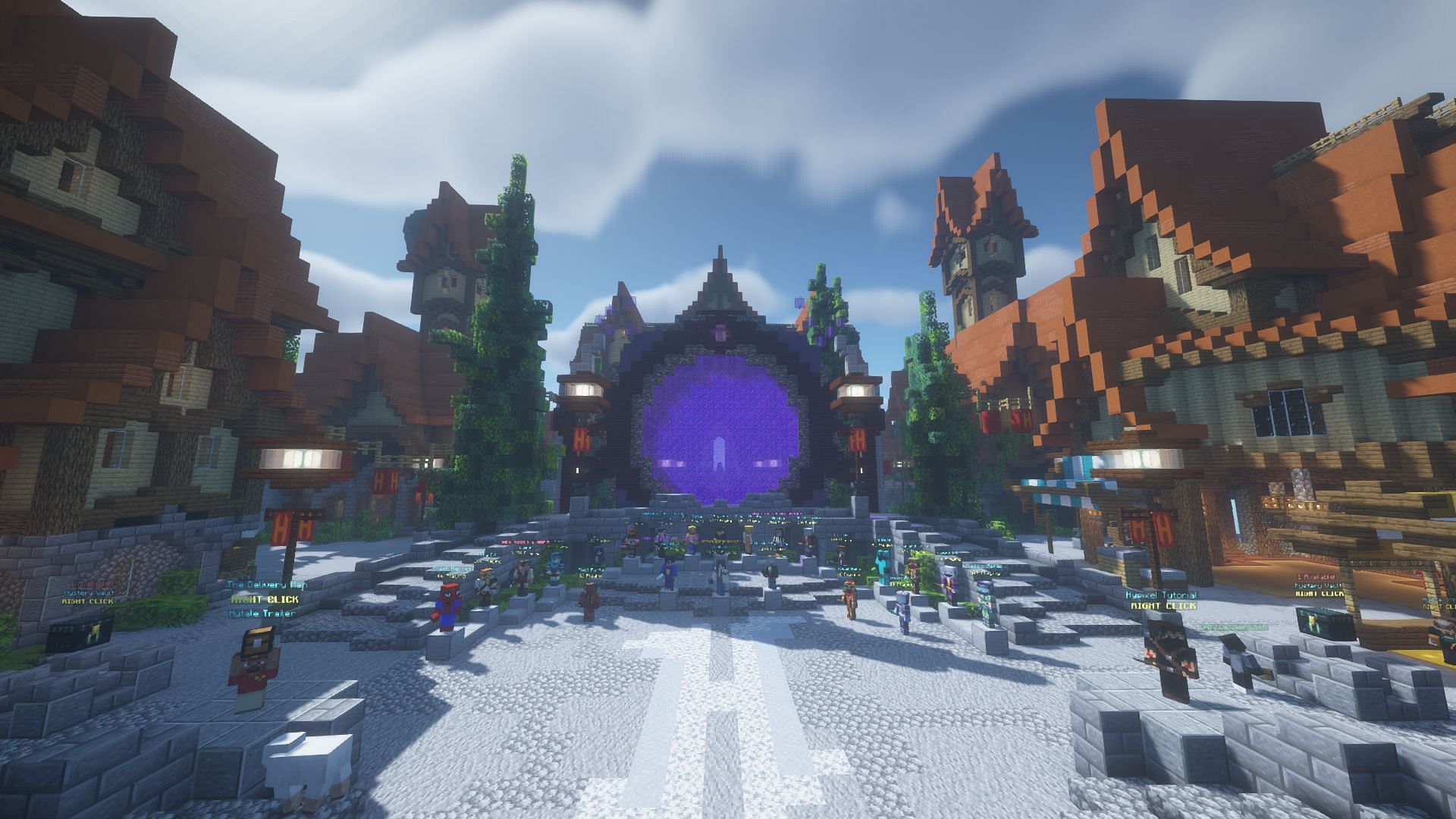 Hypixel is perhaps the most popular Minecraft server, which truly deserves to be. This is because of the large amount of quality content available on the Hypixel servers, which blows the competition out of the water.
Along with being able to play Hypixel on the latest version of Minecraft with updated graphics, it also boasts a stellar 19 unique game modes from Quakecraft, Warlords, and VampireZ to SkyWars, Murder Mystery, and Arena Brawl. Each of these game modes also comes with its Leaderboards. The players with the highest points in each mode are glorified for the world to see.
Along with tons of game modes, Hypixel is also massively populated, so if you're looking for a great social experience along with your PvP action, this server will not disappoint. We cannot recommend the experience of Hypixel enough.
1. PvP Wars
PvPWars is a breathtaking Minecraft server lovingly curated for high-quality PvP and PvE gameplay. The server has 5 unique modes, each with unique terrain, items, dungeons, and challenges for the players to overcome or compete within.
The server recently launched its Factions Xolar game mode, which boasts an incredible amount of PvP material, from a Warzone section that allows for you to be thrust into a ruined planet where the only rule is hunt or be hunted, to Darkzone, where you enter into a powerful stronghold, which is home to only the most deadly players. Fighting through it all will be the ultimate test of skill, and the rewards for conquering the modes are immense.
Finally, PvPWars has the most robust system of PvE. There are several Dungeons populated with unique monsters and deadly bosses for you to overcome. The server even features puzzles that test your intelligence and your skill.
These features, consistent updates, and rewards for players make this server perhaps the best experience Minecraft offers.