Terraria has been the gift that keeps on giving with so much content already added by the developers and the seasonal events that spruce up the game every now and then, it is safe to say that there is never a dull moment in this game.
The game features an insane amount of weapons that are both unique, and you feel their powerful impact. On top of that, there are multiple playing styles as well, like Mage, Melee, Ranger, and Summoner, that change the way you deal with enemies drastically.
Speaking of different playing styles and weapons, we have curated a list of weapons for each class:
Melee

Solar Eruption
Star Wrath
Meowmere
Terrarian
Zenith

Ranged

Coin Gun
Sniper Rifle
Xenopopper
Aerial Bane
Piranha Gun

Summon

Blade Staff
Sanguine Staff
Xeno Staff
Stardust Dragon Staff And Stardust Cell Staff
Terraprisma

Magic

Medusa Head
Rainbow Gun
Razorblade Typhoon
Nebula Blaze
Last Prism
Melee
The basic 'Mano a Mano' weapon type that needs to be fought with while being close to your target, although many melee weapons in Terraria have a ranged element to them.
Solar Eruption
Damage
105 (Melee)
Knockback
2 (Very weak)
Critical chance
4%
Use time
20 (Very fast)
Velocity
24
The Solar Eruption is crafted with solar fragments and an ancient manipulator. This weapon works as somewhat of a combination between a flail and a spear except it can pass through blocks and explodes several times on impact.
The explosions deal a day-broken debuff to any surrounding enemies which deal 100 DPS per target and therefore function fantastically against wave events with mobs positioned close to each other.
The weapon has a great single target DPS at short range as the flail hits the enemy for a longer period, but at a further range, the flail hits the enemy for a shorter period.
The Solar Eruption hits an enemy up to five times per swing but far less at a further distance, which is why the DPS has a differentiation. The weapon is great during late-game events.
Star Wrath
| | |
| --- | --- |
| Damage | 110 (sword) / 220 (stars) (Melee) |
| Knockback | 6.5 (Strong) |
| Critical chance | 4% |
| Use time | 16 (Very fast) |
| Velocity | 16 |
The Star Wrath is a drop from the Moon Lord. The weapon has a base damage of 110 but upon swinging, three stars will fall from the top of the screen wherever the mouse is positioned and stop on contact with a block and each of these stars has a base damage of 220.
It can be difficult to hit fast-moving targets with this weapon as the stars take time to fall and enemies will have time to dodge however the falling speed can be increased by increasing the character's melee speed, therefore, a fast melee speed loadout will prove beneficial with this weapon.
The Star Wrath is an auto-swing weapon, and with fast melee speed, a storm of stars can ravage groups of enemies with ease.
The Star Wrath's falling stars give it the advantage of having an enormous range of anywhere on the screen. The weapon is great in events and can comfortably deal above 20,000 DPS with a good loadout.
Meowmere
| | |
| --- | --- |
| Damage | 200 (Melee) |
| Knockback | 6.5 (Strong) |
| Critical chance | 4% |
| Use time | 16 (Very fast) |
| Velocity | 12 |
The Meowmere is a drop from the Moon Lord and a reference to the classic 2011 Youtube video Nyan Cat. The sword fires a pop-tart cat head projectile with a rainbow trail that bounces off blocks and pierces multiple enemies.
Gravity also affects the projectiles and will travel in a bouncing arch. The explosions that appear on each round are only visual and do not deal damage.
The sword and projectiles each have a base damage of 200 making it the highest base damage of any melee weapon in the game. The Meowmere's projectiles' piercing damage and bouncing ability make it great against multiple enemies.
The DPS of this sword and the Star Wrath is pretty similar and it merely depends on the situation for where which sword is better, for example, underground or in a box the Meowmere would have a strong advantage over the Star Wrath.
Terrarian
| | |
| --- | --- |
| Damage | 190 (Melee) |
| Knockback | 6.5 (Strong) |
| Critical chance | 14% |
| Use time | 25 (Fast) |
| Velocity | 16 |
The Terrarian yoyo is by far the most powerful yo-yo in the game and another Moon Lord drop.
The Terrarian is now the only yoyo that can obtain the legendary modifier with base damage 190, the weapon by itself is already incredibly powerful with a long base range of 25 tiles however this can be increased as melee speed increases and an infinite string time.
The weapon also shoots homing terrarian beams and several of them per second, these particles also deal the same base damage as the yoyo allowing this weapon to have a very strong DPS against single targets as the particles can fly out from the yoyo and immediately home into that target.
Zenith
| | |
| --- | --- |
| Damage | 190 (Melee) |
| Knockback | 6.5 (Strong) |
| Critical chance | 14% |
| Use time | 30 (Average) |
| Velocity | 32 |
The Zenith is the best melee weapon in Terraria and the fabled final sword of the game. The Zenith has one of the largest crafting recipes in the game and if you're a melee player you should keep an eye out for these weapons throughout your journey.
Hold on to them for this final crafting recipe because the Zenith requires the Terra Blade, Meowmere, Star Wrath, Influx Waver, Horseman's Blade, Seedler, Starfury, Bee Keeper, Enchanted Sword, and of Copper Shortsword.
The Zenith ignores enemy invincibility frames, so it will just be a constant barrage of attacks that can deal up to 50k DPS on a single target. This weapon seems to have an infinite range only being limited by wherever the mouse reaches.
The Zenith flings out swords in a circular pattern three peruse and auto-target enemies within 25 tiles of the player, even if they aren't targeted with the mouse. It will also attack through blocks. The potential DPS of this weapon is absurd; with proper wiring setups, it can reach 8 million DPS.
Ranged
This class includes all the guns, and medieval ranged weapons that allow you to stay far away and pummel your enemies to death.
Coin Gun
| | |
| --- | --- |
| Damage | 0 (Ranged) |
| Knockback | 2 (Very weak) |
| Critical chance | 4% |
| Use time | 8 (Insanely fast) |
| Velocity | 10 |
Coin Gun is the preferred weapon of prank Youtubers as you can use your money as a way to hurt people.
The Coin Gun is obtained through the pirate invasion event and has a ridiculously low drop rate, out of 1 in 8,000 chance from average invasion enemies up to a 1 in 400 chance from the flying Dutchman.
Each coin has its own unique damage value ranging from copper coins being the lowest at 25 damage to platinum coins doing 200 damage per shot. Keep in mind once you shoot this money you can't get it back so only use it if you have enough dough in your bank.
Sniper Rifle
The Sniper Rifle, although not hugely unique in a general sense, is unique in the fact that it's the only weapon in Terraria that allows you control of your camera.
Obtained through skeleton snipers in a post-plantera dungeon and an 11.46% drop rate in hard mode, the Sniper Rifle is one of the easier weapons to get hold of.
With the right accessory pairings, players have managed to make the Sniper Rifle an incredible force to be reckoned with allowing you to one-shot most non-boss enemies in the game.
Xenopopper
| | |
| --- | --- |
| Damage | 45 (Ranged) |
| Knockback | 3 (Very weak) |
| Critical chance | 4% |
| Use time | 21 (Fast) |
| Velocity | 24 |
This weapon is admittedly infuriatingly difficult to use and doesn't do that much damage but the Xenopopper is nothing if not unique. The Xenopopper is obtained from a post-golem Martian madness event dropping at a 1 in 9 chance from the Martian saucers.
Firing four to five purple bubbles that will pop erupt into bullets and then converge on the player's cursor. This weapon is fun at the start and then slowly turns into quite annoying to deal with. It also kind of looks like a Super Soaker which is a bonus.
Aerial Bane
| | |
| --- | --- |
| Damage | 55 (Ranged) |
| Velocity | 11 |
| Use Time | 30 (Average) |
| Knockback | 4.5 (Average) |
Aerial Bane is dropped from the old ones' army event. This weapon packs some incredible damage along with a very interesting effect.
The bow normally shoots six arrows in every shot, but when targeting a flying enemy, those six arrows will splinter off further, shooting five additional arrows down from the aerial target. It's a great weapon especially if you are surrounded by flying and grounded enemies.
Piranha Gun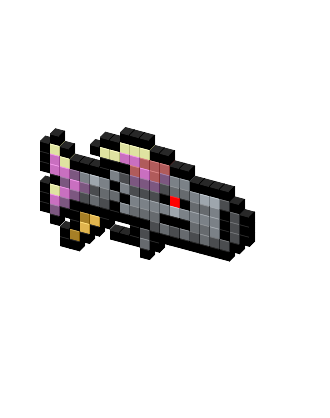 | | |
| --- | --- |
| Damage | 38 (Ranged) |
| Knockback | 1 (Extremely weak) |
| Critical chance | 4% |
| Use time | 30 (Average) |
| Velocity | 14 |
The Piranha Gun can be found only in the dungeon's jungle chest, and it's not the easiest to get, but it is worth it. The Piranha Gun fires a single projectile, which, if you haven't guessed, is a piranha that latches on the enemy doing continuous damage for as long as the player has the attack button held.
If the targeted enemy dies, your carnivorous friend will latch on to the next closest enemy or return to you if there's none nearby. A very unique, effective, and a sight to behold weapon.
Summon
Is it your fantasy to sit back and relax while your minions take over the world? Then this weapon type is for you, allowing you to spawn weird entities to do your bidding.
Blade Staff

| | |
| --- | --- |
| Damage | 6 (Summon) |
| Knockback | 0 (No knockback) |
| Mana | 10 |
| Use time | 36 (Very slow) |
| Velocity | 10 |
The Blade Staff is dropped from the enchanted sword enemies found in the underground hollow, it's quite hard to get your hands on one considering how rare these enemies are, but it's worth it.
This weapon summons the enchanted dagger minions which have one of the best AI in the game; they home in on an enemy and stick to them, dealing damage furiously; not only do these minions hit reliably and quickly they also ignore 25 enemy defense which helps a lot in expert or master mode.
When you look at the base damage of the Blade Staff, it seems extremely low damage however the secret lies with armor penetration.
Throw in a shark tooth necklace that gives you 5 armor penetration, the stinger necklace, and I call from the golden shower, and you've got minions that ignore an insane amount of defense which is truly where the Blade Staff shines.
This summon is great for beefy enemies, and their reliability is awesome.
Sanguine Staff
| | |
| --- | --- |
| Damage | 35 (Summon) |
| Knockback | 8 (Very strong) |
| Mana | 10 |
| Use time | 36 (Very slow) |
| Velocity | 10 |
The Sanguine Staff is obtained from the Dreadnautilus and drops at a 20% rate which is decent. This weapon summons sanguine bats, which are quite strong; they have high knockback, which protects you from enemies that come too close.
The main appeal of this weapon is its range and reliability; the sanguine bats have an insane range. They can hit enemies far away from you and can hit enemies off-screen, which keeps you safe from any attacks.
The range and damage combined mean that you've got a consistent DPS weapon which allows you to focus more on dodging as a squishy summoner. One drawback is that there's no way to use it behind walls, and the other thing is the bats always fly out, return to you then fly out again, which makes them pretty slow.
Xeno Staff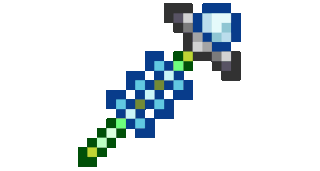 | | |
| --- | --- |
| Damage | 36 |
| Mana Cost | 10 |
| Use Time | 36 (Very slow) |
The Xeno Staff is dropped from the Martian saucer mini-boss. The Xeno Staff is one of the most reliable high-damaging summons out there; it summons UFO minions that teleport and strike enemies. The great thing about this weapon is that it never misses, which is great when dealing with fast-moving or stationary enemies.
The only bad thing about this weapon is how hard it is to get one; the martian saucer is a difficult mini-boss, especially for pure summoners. The weapon's utility is short-lived, though, as most summoners will shift to better weapons in the game.
Stardust Dragon Staff And Stardust Cell Staff
| | |
| --- | --- |
| Damage | 40 (Summon) |
| Knockback | 2 (Very weak) |
| Mana | 10 |
| Use time | 36 (Very slow) |
| Velocity | 10 |
Both these staves are crafted using stardust fragments and an ancient manipulator, and these are endgame summon weapons. The Stardust Cell Staff is basically a Xeno Staff upgrade, but it also deals damage over time; it's pretty good for groups of enemies; however the better of the two is probably the Stardust Dragon Staff.
Every summons of the dragon increases the dragon segments, and the amazing thing about the dragon is that it passes through blocks. You can box yourself somewhere and destroy everything. Also, its damage output is one of the highest in the game as every segment deals contact damage, and just a few passthrough can destroy most enemies.
Terraprisma
| | |
| --- | --- |
| Damage | 90 (Summon) |
| Knockback | 4 (Weak) |
| Mana | 10 |
| Use time | 36 (Very slow) |
| Velocity | 10 |
The Terraprisma is only obtainable in one way; you must defeat the empress of light fully in the day only. It is arguably the strongest summon in the entire game.
If you're using Stardust summons, you have to move around to dodge enemy attacks, but if you use the Terraprisma, you can stand still, and nothing ever comes close to you. The AI on these is magnificent, and the damage output is insane, not to mention it looks amazing.
The Terraprisma is great for every situation out there, and it truly is the ultimate summon weapon that showcases your mastery over the empress of light.
Magic
Channel your inner wizard, and instead of pulling out a rabbit from your hat, rain down the might of your magic on your enemies!
Medusa Head
| | |
| --- | --- |
| Damage | 40 (Magic) |
| Knockback | 2 (Very weak) |
| Mana | 15 |
| Critical chance | 4% |
| Use time | 20 (Very fast) |
| Velocity | 1 |
One of the rarest weapons is the Medusa Head dropping at an abysmally low rate of 1 in 50 from Medusa. This weapon requires a lot of farming or luck to acquire. Although the drop rate is quite low, this weapon rewards the players who are lucky enough to find it.
The Medusa Head is an incredibly effective early hard mode weapon allowing players to deal an insane amount of damage to multiple enemies within the area around them. This weapon is a channeled ability dealing damage at a rate of 4 hits per second, hitting up to 3 enemies at a time.
Rainbow Gun
| | |
| --- | --- |
| Damage | 45 (Magic) |
| Knockback | 2.5 (Very weak) |
| Mana | 20 |
| Critical chance | 4% |
| Use time | 40 (Very slow) |
| Velocity | 16 |
Found in the post-planter dungeon from the hollowed chest, The Rainbow Gun can prove quite difficult to obtain in a similar vein to the Medusa Head.
This weapon's rarity is not without, as the Rainbow Gun is an insanely effective endgame weapon that shoots a rainbow, deals incredibly high amounts of damage, and pierces infinitely.
This makes it quite useful against multiple enemies or enemies with multiple segments. It can easily carry the player into post-celestial pillar content.
Razorblade Typhoon
One of the few homing weapons in Terraria is the Razorblade Typhoon, dropped at a one in five chance from duke fishron. This weapon fires one large and super fast projectile per click that lasts two seconds, each bringing the danger of sea to land eviscerating and drowning your foes with the click of a button.
Nebula Blaze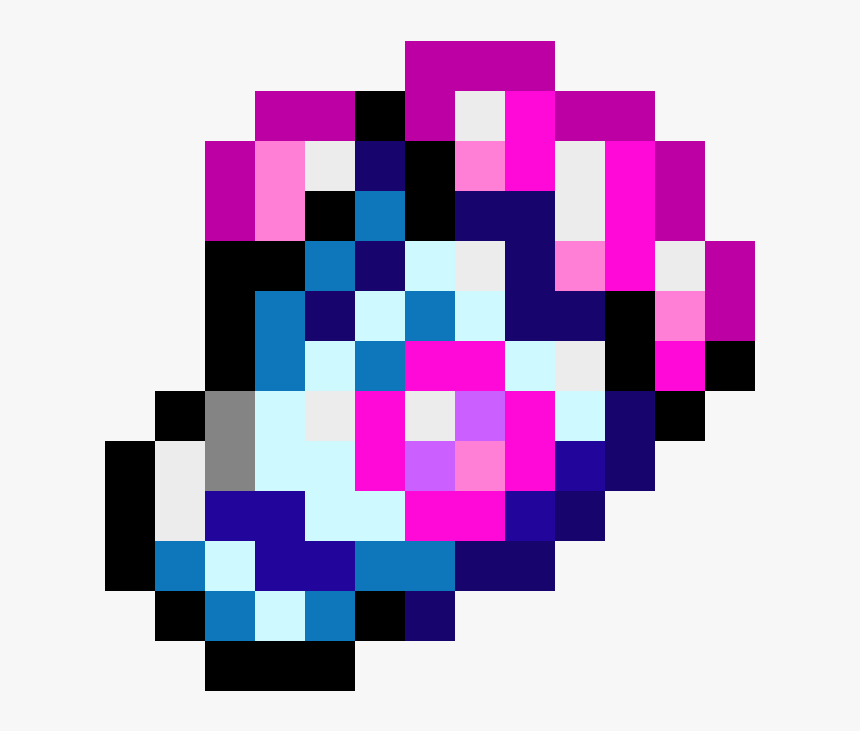 Craftable only after destroying the nebula pillar is the Nebula Blaze. This is great due to its immense amount of style and damage it produces. This weapon proves that looks can kill.
Equip the power of Orion in a snug fitting glove that blasts pink balls of destruction that occasionally shoot even more dangerous blue balls of destruction that deals three times more damage.
Last Prism
| | |
| --- | --- |
| Damage | 100 (Magic) |
| Knockback | 0 (No knockback) |
| Mana | 12 |
| Critical chance | 4% |
| Use time | 10 (Very fast) |
| Velocity | 30 |
The Last Prism is dropped from the Moon Lord at a 1 in 9 chance. The Last Prism is the definition of overkill, being the single highest DPS item in the game, but also consuming equally high amounts of mana means that it does require a little bit of setup to be used most effectively, but it's worth it.
The Last Prism starts shooting six beams of light that deal individual damage but converge into one super death beam that hits 12 times per second at a rate of 100 damage per second without any modifiers. Also, crazily enough, each hit has a chance to crit.
---
We know that Terraria has many weapons and builds that make them effective, so this list will vary from player to player and is quite subjective. We have tried to include all the weapons that are great as they are. What weapons do you think are great in Terraria in the comments below?